Remember when actor Jim Carrey portrayed ridiculous characters in movies for our entertainment? Now the almost certifiably insane Carrey acts like an asshat for free — and for a party of one, too.
Carrey posted a political portrait he painted of White House Press Secretary Sarah Huckabee-Sanders on Twitter over the weekend. The tweet didn't have the most flowery of things to say about Huckabee-Sanders either.
Here's Carrey's tweet: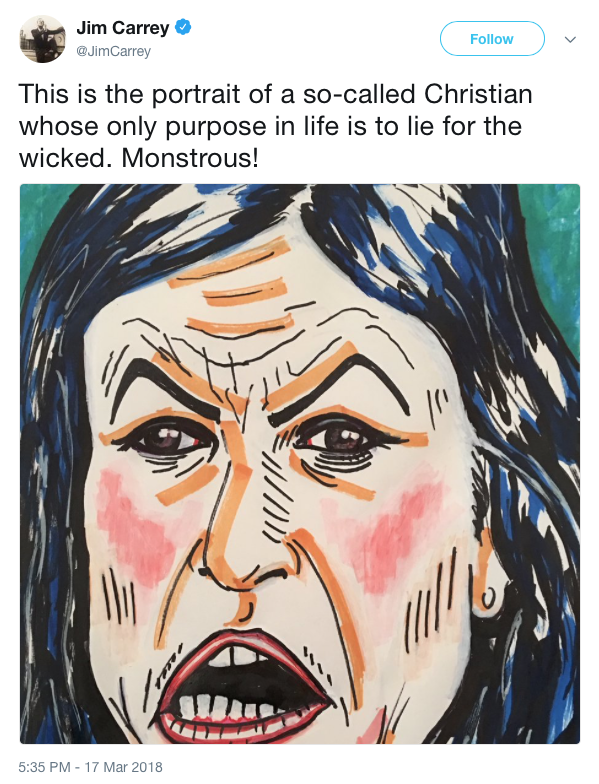 Huckabee-Sanders father, former Arkansas Gov. Mike Huckabee, responded to Carrey on Twitter Monday morning and gave the once-promising actor the same vitriolic treatment that Carrey gave his daughter.
Here's Huckabee's tweet: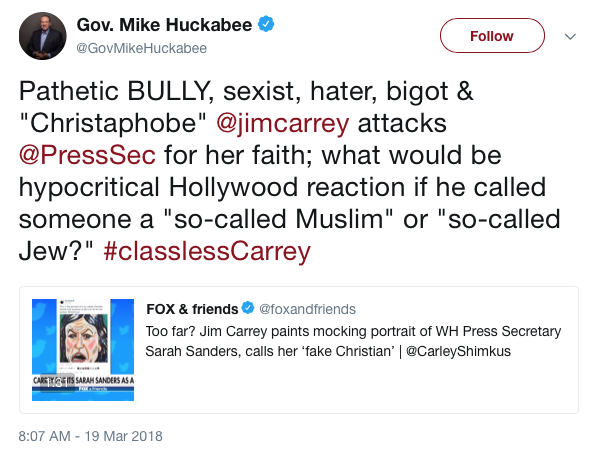 "Pathetic BULLY?" Check. "Sexist?" Check. "Hater? Check. "Bigot?" What do ya know? Check!
This wasn't the first time Carrey has landed in hot water over releasing some of his "artistic expressions."
Last month, Carrey tweeted out a painting he did of President Trump playing golf on a course covered in dead kids. The tweet came less than a week after the deadly school shooting in Parkland, Fla. on Valentine's Day.
Here's the tweet: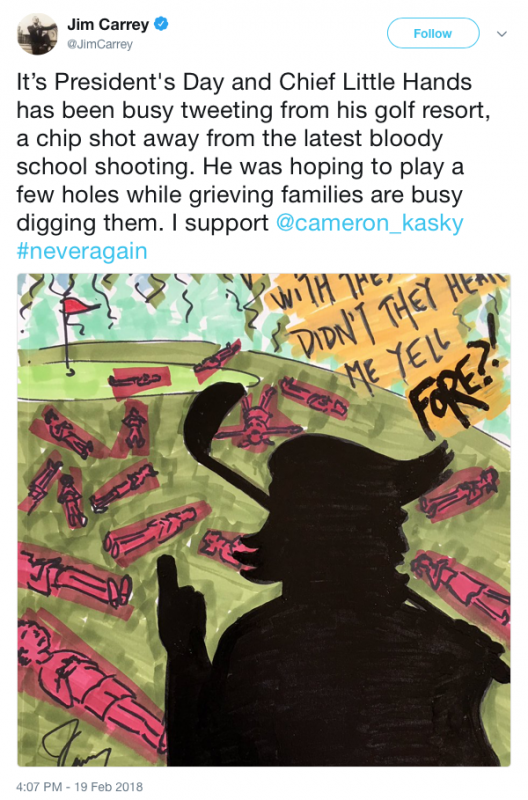 Classy. Judging by his Twitter page, Carrey has been doing a lot of painting over the last month or so. Carrey's not great at using his words, so painting his feelings on political subjects is a justifiable way to display the man's insanity.
Sometimes the only way to deal with a bully is to fire back using the same tactics that were used on the bully's victims. Good for you, Gov. Huckabee!
H/T: Daily Caller