Earlier this week, a Planned Parenthood Twitter account started a firestorm on social media after suggesting that "we need a Disney princess who's had an abortion."
After facing backlash for the suggestion among others including a "pro-choice" princess, a "trans" princess, and a princess who's "an undocumented immigrant," Planned Parenthood affiliate Keystone deleted the tweet. But it was already too late. It had gone viral.
A writer for left-wing Jezebel took the conversation a step further in an article published Wednesday night titled, "Statistically, at Least 2 Disney Princesses Had Abortions."
Jezebel writer Joanna Rothkopf used statistics from the Guttmacher Institute to claim that out of the 11 "official" Disney princesses, "around two and a half" of the children cartoon characters have gotten abortions.
According to the Guttmacher Institute, 23.7 percent of women in the United States will have had an abortion by age 45. According to the 'official' Disney princess website, there are 11 'official' Disney princesses: Belle, Rapunzel, Ariel, Tiana, Snow White, Cinderella, Aurora, Merida, Pocahontas, Jasmine, and Mulan. That means statistically around two and a half of these strong women have gotten abortions and aren't telling you about it because of a national culture of shame and misogyny!!!
"Cartoons can have abortions and two of these ones—if not more!—almost certainly have," Rothkopf added.
She went on to call the tweet by Planned Parenthood Keystone "morally fine."
Obviously it wasn't because the Planned Parenthood chapter issued a statement on Tuesday apologizing for being highly inappropriate.
"Today, we joined an ongoing Twitter conversation about the kinds of princesses people want to see in an attempt to make a point about the importance of telling stories that challenge stigma and championing stories that too often don't get told," Planned Parenthood Keystone president and CEO Melissa Reed said in a statement to USA Today. "Upon reflection, we decided that the seriousness of the point we were trying to make was not appropriate for the subject matter or context, and we removed the tweet."
If you're curious, here's a screenshot of the tweet below.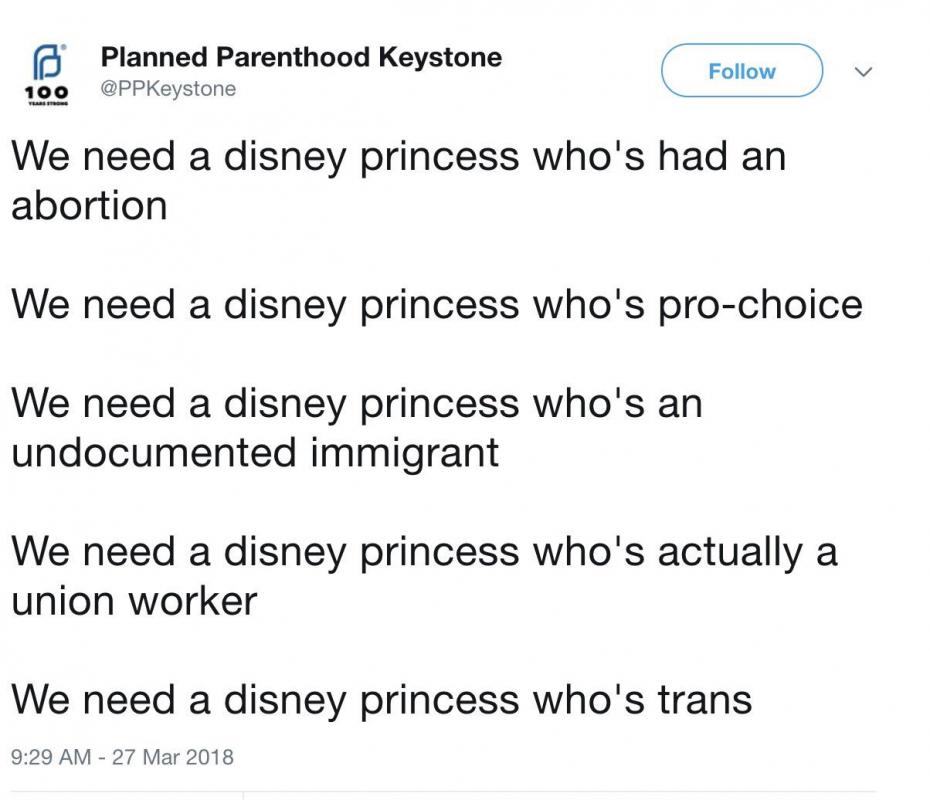 (Cover Photo: Flickr / JLinksy)
Thank you for supporting MRCTV! As a tax-deductible, charitable organization, we rely on the support of our readers to keep us running! Keep MRCTV going with your gift here!