It's time to lighten up. Everyone allows every little thing that might, maybe, possibly be connected to a political issue offend them in the worst way. Sometimes funny is funny, regardless of what the topic that's broached. And sometimes, an ad is just an ad.
Garieri Jewelers in Sturbridge, Mass. is in hot water after a billboard they recently paid for depicted a man on one knee proposing to his prospective wife on a football field with the caption, "If you're going to take a knee this season, please have a ring in your hand."
The ad is obviously making light of the protest during the national anthem before NFL games the past couple of years, initiated by unemployed quarterback Colin Kaepernick.
"It was intended to be attention-getting," store owner Scott Garieri told Boston 25 News.
Gerieri certainly received attention for the billboard, with some saying the ad is racist.
"Someone saw it, pulled in off Route 20 and took a picture of it and then went off about how racist it is," said Garieri. "Then they started attacking us, they wanted to come in and vomit on the cases, they were going to urinate on our sidewalks."
What a classy way to show that you think an ad is intolerant. Although, the pushback is coming from Leftists, so you can't expect class to be displayed in abundance.
Garieri Jewelers responded to the negative portion of the response to the ad by tweeting that they're not backing down from their satirical ad.
Here's the tweet: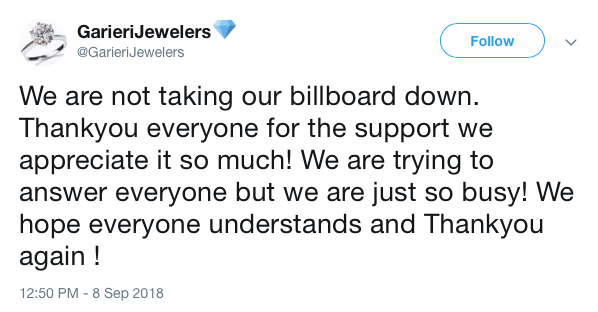 With that tweet, some people responded in typical SJW fashion:



Boston 25 News also reported that one comment on social media "went as far as suggesting Gerieri's daughter," the manager of the store, "kill herself." But, Garieri is still defiant in his stance on the issue.
"I'm a firm believer in respecting the country, respecting the flag, respecting the national anthem," Garieri said.
You might ask, 'How can you support this ad while bashing the Nike/Kaepernick ad?' The answer is simple.
The Nike ad campaign featuring Kaepernick was designed to both cause controversy and contribute to the false narrative that is Kaepernick's "message." The jewelry store's ad is clearly satire. One was meant to be funny, and the other was predictably devoid of humor because of the perceived seriousness of their message.
For local coverage of the story, watch below:
H/T: Fox News