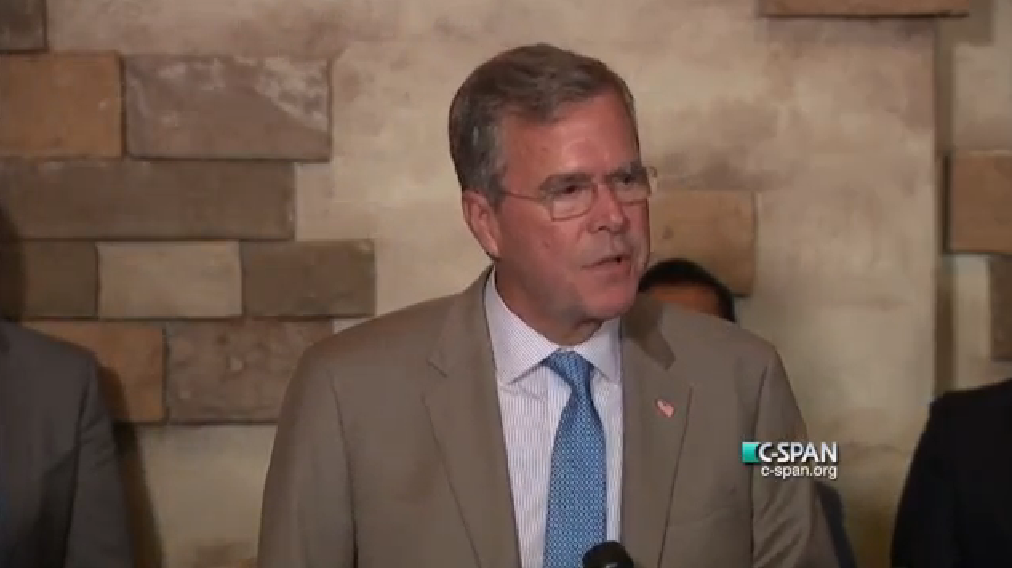 During a visit to McAllen, Tex. on Monday, presidential candidate Jeb Bush discussed immigration reform and how it is "ludicrous" for liberals to suggest that the term "anchor baby" – used to describe children born to illegal immigrants on American soil – is "a derogatory term."
"My background, my life, the fact that I'm immersed in the immigrant experience… This is ludicrous for the Clinton campaign and others to suggest that somehow I'm using a derogatory term," said Bush.
"What I was talking about was the specific case of fraud being committed where there's organized efforts… People coming into our country, having children in that organized effort, taking advantage of a noble concept – birthright citizenship."
He went on, "By the way, I think we need to take a step back and chill out a little bit as it relates to the political correctness, that somehow you have to be scolded every time you say something."
"It's not fair to be taken out of context, and that's the nature of politics," said Bush, "but I just don't think this is appropriate."
For his remarks, check out a short video clip here. 
MRCTV Reader,
The liberal media are terrified of the truth, especially when it leads to uncomfortable questions about their own leftist worldview.
MRCTV is the multimedia division of MRC featuring original content and aggregated videos of the news, people, and events conservatives care about.
MRCTV relies on the support of our loyal readers (and video viewers) to keep providing the news and commentary that matter to the American people, not just stories that prop up the liberal agenda.
Make a donation today. Just $15 a month would make a tremendous impact and enable us to keeping shining the light where the liberal media are afraid to tread.
— The MRCTV Team
DONATE
Connect
Sign up for our MRCTV newsletter to receive the latest news.
Sponsored Links