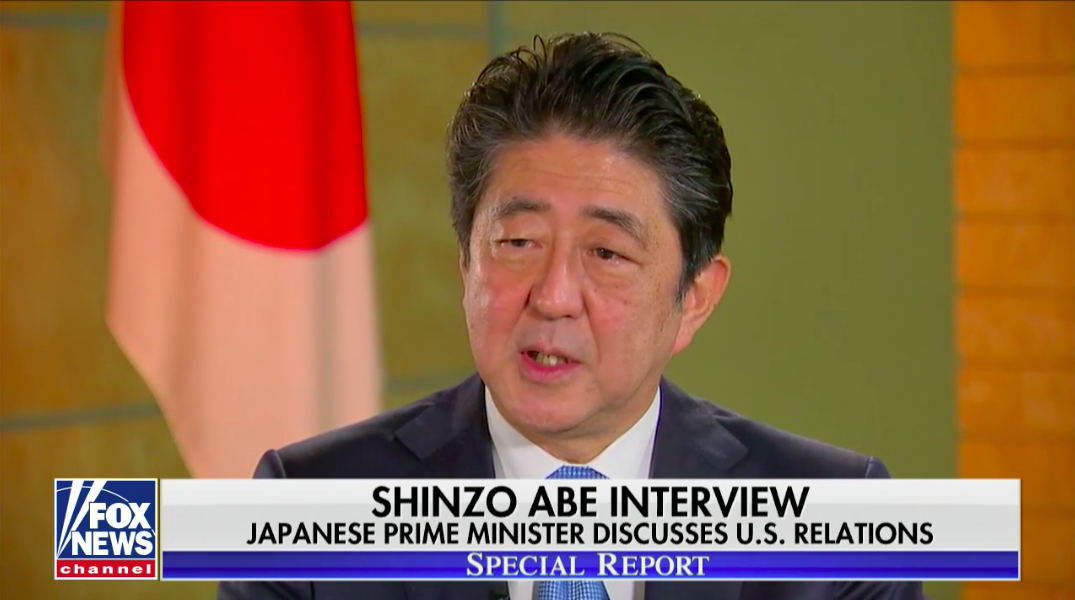 Image via Screenshot
Japanese Prime Minister Shinzo Abe says that "dialogue for the purpose of dialogue is meaningless" and ineffective in dealing with the rogue nation North Korea.
Abe in an interview with Fox News' Bret Baier Monday night said that North Korea has used peace talks "just to gain time to further develop the nuclear program as well as missiles."
"So North Korean dialogue just for the purpose of dialogue is meaningless. That is our experience," he said.
"Now is the time to further put pressure on North Korea," Abe went on, "and in that sense, the sanctions that were agreed upon in the United Nations resolutions which were put forth in September … [we] must firmly implement those sanctions."
Abe said that he hopes to "further solidify the U.S.-Japan alliance" as he and President Trump work together to address the North Korea nuclear threat.
He said that "whenever an attack is made on Japan" – as if an attack is inevitable – he is confident that the U.S. will work closely with Japan "to respond to those threats."
"And we have been confirming this," Abe added. 
North Korea fired two missiles over Japan in recent months.  
The UN convened in September to address the threat and passed further sanctions on North Korea.
During President Trump's visit to Japan this week, Trump said that Abe was "going to purchase massive amounts of military equipment" from the U.S. to strengthen Japan's defense capabilities. 
Abe said that he was considering such a deal, especially given the "very tough" North Korea situation.
Japan also plans to impose additional sanctions on North Korea, a top government spokesman said on Tuesday.
The sanctions involve freezing the assets of nine organizations, including North Korean banks, and 26 individuals.
For more, check out the full "Special Report" segment below.
Thank you for supporting MRCTV! As a tax-deductible, charitable organization, we rely on the support of our readers to keep us running! Keep MRCTV going with your gift here!