Poison Ivy League student David Hogg just owned himself, and it couldn't be more hilarious. Imagine being such a severe sufferer of Trump Derangement Syndrome that your clear view on a topic can change in a matter of a few months simply because President Donald Trump agreed with your initial take.
Hogg took to Twitter over the weekend — as Hogg tends to do…non-stop — and he decided to take a shot at President Donald Trump for saying he wants to ban the Chinese social media video platform TikTok last Friday, essentially saying that Trump fears teenagers voting.
Imagine being so scared teenagers are going to vote you out you ban one of their top platforms for communication.

— David Hogg 92 days 🌊 (@davidhogg111) August 1, 2020
While Hogg is more than entitled to his opinion — no matter how asinine it might be — he sang a different tune concerning TikTok just a few months ago.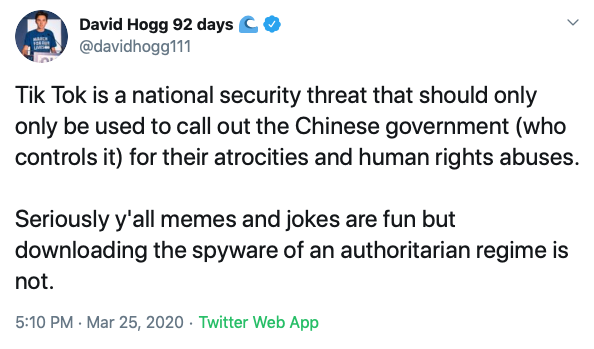 But Hogg wasn't done there. No, no. He immediately doubled down, specifically saying that he wasn't "kidding."

So which is it, David? Should TikTok stick around just so you can possibly say 'screw Trump?' Or should the platform be "canceled" because of the "national security threat" they pose to the rest of the world for being a tool of the communist Chinese government?
Just using your own words. You can't have it both ways.
H/T: Louder with Crowder