Ummm…so, this is a thing that happened.
President Trump's daughter, Ivanka, took to Twitter Monday evening voicing her support for sexual harassment and assault victims. The only problem was her motivation for doing so.
Here's the tweet: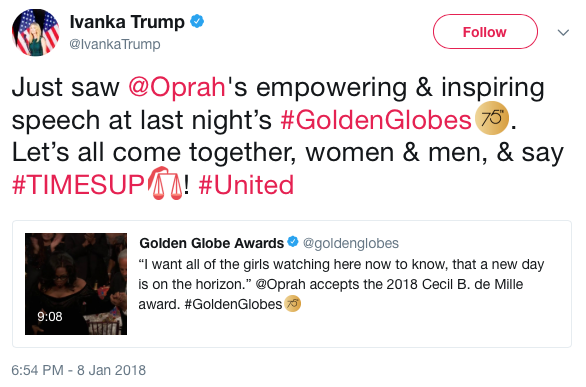 Ivanka knows that Oprah Winfrey was taking jabs at her dad half the time, right? But even if she didn't know, wasn't being sarcastic and genuinely loved Winfrey's speech, some lower level celebrities and producers wouldn't let her get away with supporting sexual misconduct victims. (You have to be part of the Hollywood cult in order to do that.)
Here's some of their "nasty" tweets:

Doesn't Chrissy have to go do more episodes of Celebrity Karaoke, or whatever it's called? You know, where her main role is to be a lamp shrill background voice? I'm not sure what she actually does on that show, but you get the idea.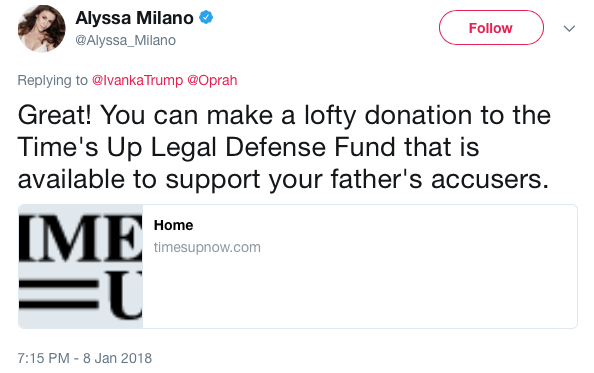 I don't think Milano should be a spokesperson for anything if insulting people is her main tactic for getting people to donate. Just saying.

Sorry, Amber. That echo you're hearing is someone whispering into your empty, brainwashed head.

Who? Supposedly, this guy is a producer, and the only fool here seems to be him.
Here's Hollywood, once again showing their tolerance for someone they don't agree with who dared to think across ideological spectrum. All of this because of who her father is. Hollywood is handling all of this #MeToo stuff very close within their ranks, because the elite in Tinsel Town can't afford another scandal.
Time's almost up on all of you spoiled, entitled, elitist Hollywood social justice phonies. We see you.
MRCTV Reader,
The liberal media are terrified of the truth, especially when it leads to uncomfortable questions about their own leftist worldview.
MRCTV is the multimedia division of MRC featuring original content and aggregated videos of the news, people, and events conservatives care about.
MRCTV relies on the support of our loyal readers (and video viewers) to keep providing the news and commentary that matter to the American people, not just stories that prop up the liberal agenda.
Make a donation today. Just $15 a month would make a tremendous impact and enable us to keeping shining the light where the liberal media are afraid to tread.
— The MRCTV Team
DONATE
Connect
Sign up for our MRCTV newsletter to receive the latest news.
Sponsored Links