Ivanka Trump on Wednesday reacted to the midterm elections results, saying that while both the GOP and the Democratic Party "got good news yesterday," "the real winner was America."
"Both political parties got good news yesterday, but the real winner was America," she wrote in a tweet. "With record turnout and sky-high participation, we saw an engaged, plugged-in democratic process at work."
She added, "Today, it's time to come together as Americans and work toward solutions that benefit all!"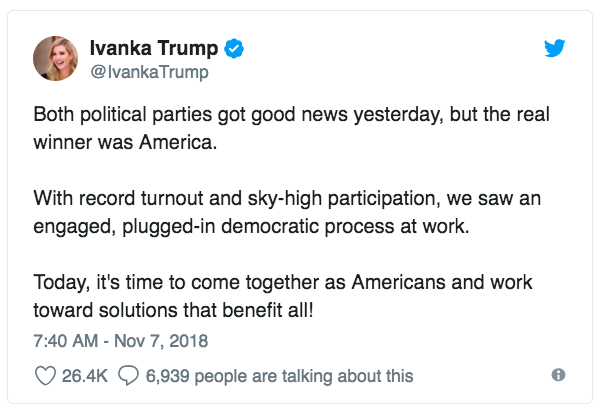 Her remarks come in stark contrast to those made by many so-called "feminists" on the left who chose to shame and insult women who didn't vote the same as they did, as MRCTV reported.
The Republicans maintained control of the Senate while the Democrats gained control of the House for the first time in eight years.
The 2018 midterm elections saw a history-making turnout, with an estimated 113 million people who participated, "making this the first midterm in history to exceed over 100 million votes, with 49 percent of eligible voters participating in the election," CBS News reports.