A female high school sprinter is speaking out after two dudes placed first and second in a recent state indoor girls' 55-meter sprint, pushing the deserving female competitors out of the rightful places. 
Selina Soule, a student at Glastonbury High School in Connecticut, talked with Fox New's Laura Ingraham about her experience watching transgendered athletes dominant her sport. 
"I am very happy for these athletes and I fully support them for being true to themselves and having the courage to do what they believe in," Soule told Ingraham. "But, in athletics, it's an entirely different situation. It's scientifically proven that males are built to be physically stronger than females. It's unfair to put someone who is biologically a male, who has not undergone anything in terms of hormone therapy, against cis-gender girls."
Noticing the high schooler's political correctness, Ingraham jumped in to ask Soule what happens when more male athletes start infiltrating various women's sports.
"What are other members of your team saying about this?" the Fox News host asked.  
"My teammates and my fellow competitors — we are happy for these athletes, of course — but we do think it's unfair, and for us it is upsetting when we work hard all season and put in a lot of effort, only to turn up at the state meets and get beat by someone who is biologically a male and lose state championships over this," Soule responded.  
Soule placed 8th in the 55-meter race missing an opportunity to compete in front of college coaches and scouts by only two spots—spots that were taken by the two transgendered athletes, Andraya Yearwood and Terry Miller. 
"It's very frustrating because I know I have put in, and some of my friends and fellow competitors have put in so much time and effort to take down our times and to compete ourselves better," the high schooler said. "But we are not physically able to be competitive against someone who is biologically a male."
Ingraham showed a graphic that highlighted the biological differences between males and females which made it very clear why someone like Yearwood and Miller would hold such an extraordinary advantage over actual female athletes.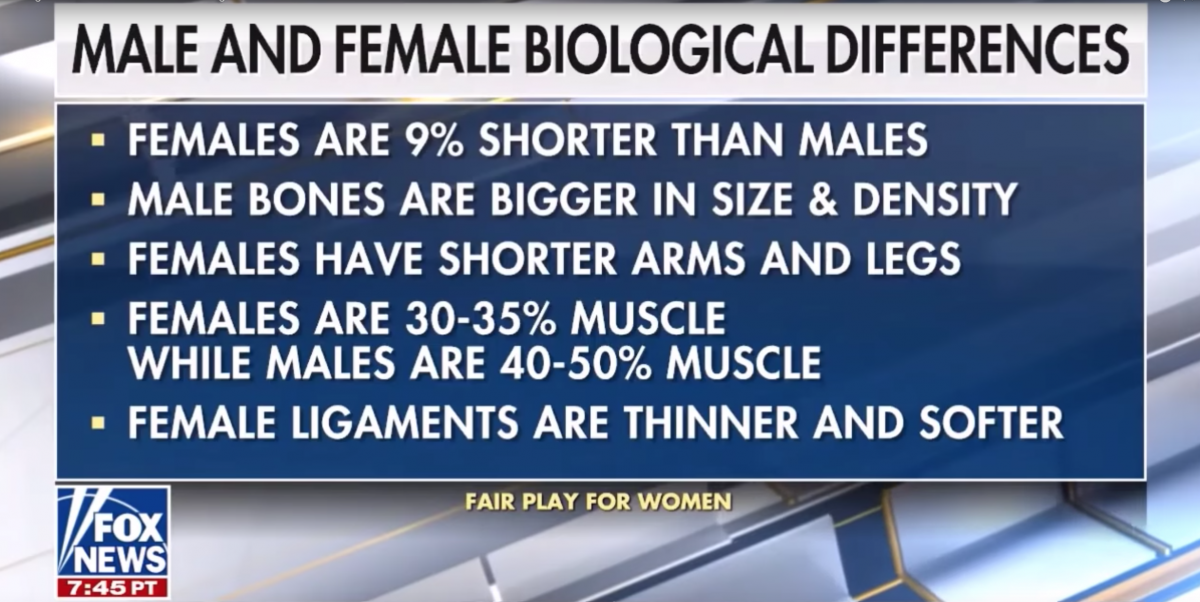 Unfortunately, these crazy situations don't look to be going away any time soon. The way those on the far-left are looking to dispel the differences between the genders we're most likely going to see more of these female athletes cheated out of their rightful finishing places.
H/T: The Daily Wire