One of these things is not like the other…
If you want to win a women's cycling race, make the smart move. Be a man!
By now, a fair amount of you might have heard about the dude who won the 2018 UCI Masters Track Cycling World Championships. I say dude, because despite the dude "identifying" as a transgender female, you might have well asked what that dude was doing competing in a women's race judging by the size difference.
Canadian transgender cyclist Rachel McKinnon — Canada, go figure — won the gold medal in the 35-39 age bracket at the world championships in Los Angeles this past Sunday. Carolien Van Herrikhuyzen of the Netherlands took the second place silver medal, and Jennifer Wagner of the U.S. took home the bronze.
"Y" did McKinnon win? Exactly. Chromosomes you can't change, no matter what kind of procedures you have, might have had just a little to do with the outcome.
While the "tolerant" Van Herrikhuyzen saw nothing wrong with her coming in second place to a dude, the third place finisher Wagner took exception with losing to someone who clearly had a physical advantage.
Here's an exchange between the two: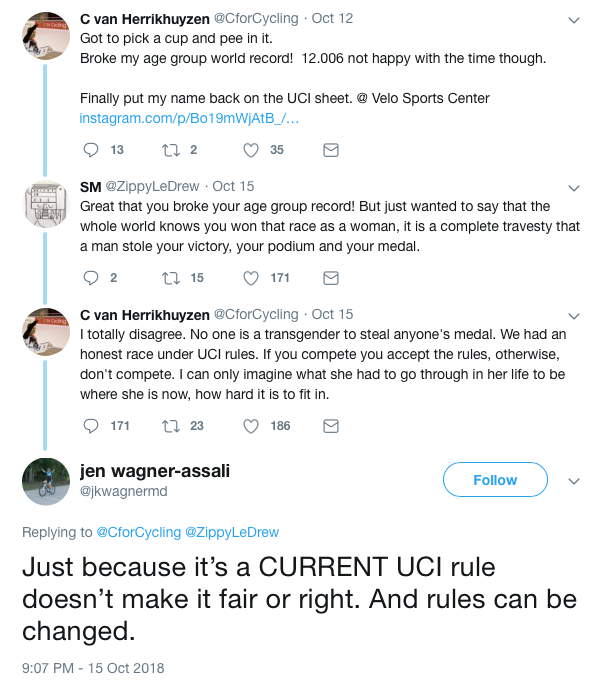 That exchange came after Wagner replied to another tweet by intimating that the race wasn't "fair."

Check this out and tell me there's no difference between these competitors (FYI: I have no idea what kind of race has you go as slow as you can the first two laps, but I digress. The medal ceremony occurs after the race around the 2:23:00 mark.):
Now, I'm not saying women can't get big and burly like McKinnon here. They absolutely can. But, there's such a clear difference between the XX's and the XY's that you can't help but notice.
Don't worry, though. McKinnon went on Twitter to call out "transphobic bigots" like me who question the validity of his win.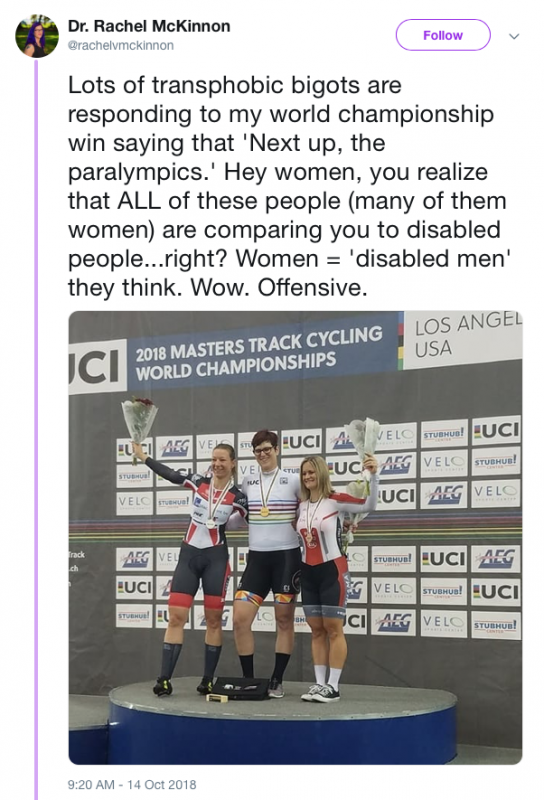 I guess you can be that stupidly triggered and be a doctor. He went on to virtue signal all over the place.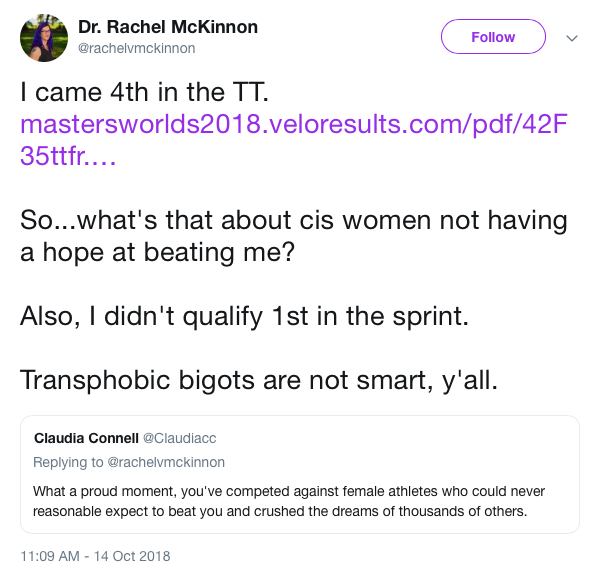 Give me a break. I know you're Canadian, but you're Socialism is showing. Saying people are transphobic would indicate that those people are afraid of trans people, and for anyone with half a brain, that's simply not the case.
There are actual bigots out there, but I don't give one crap about McKinnon being transgender. I don't even have a problem with McKinnon personally, since I don't know her/him/whatever. But I do have a problem with McKinnon's thinking that he is on a level playing field with the rest of the female athletes.
Despite McKinnon's classification as a doctor, he/she should know that the science isn't settled. But that would be inconvenient to her/his cause.
Even if there was less of a size difference, Alison Heather, physiology professor at Otagu University in New Zealand, says that transgender women have an advantage in both speed and power.
Here's Heather's take on the subject:
The physiological attributes of males that makes them naturally stronger including anatomical and biological features such as size, muscle mass, lung capacity, and heart size would be an advantage[…]

Given the lack of research, there is a real need to study what physical advantages transgender females carry after hormone therapy with consideration required for different sports, trainability and for performance.

Until then, it is very difficult to conclude that it is a level playing field for CIS women versus trans women.
Why are trans women allowed to compete in the women's division of different sports if the science isn't there to confirm whether or not they're competing on the same level?
It's even more questionable when you take into consideration that the International Olympic Committee has given trans women a testosterone ceiling of 10 nanomoles per liter (NMOL/L), while a woman's upper level of NMOL/L is 3.1.
That's a pretty big difference in testosterone levels.
At the end of the day, a dude won the women's world championship.
H/T: Daily Caller, Washington Times