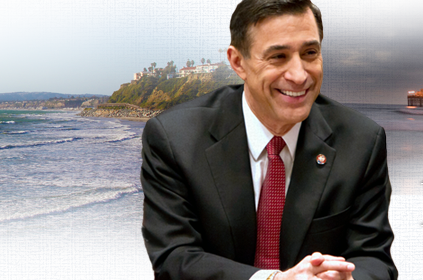 "Her explanations are not plausible," Rep. Darrell Issa (R-Calif.) responded to former Secretary of State Hillary Clinton's press conference today at which she addressed questions surrounding her use of a personal e-mail address and server for government business throughout her four years as Secretary of State.
Clinton's claims simply aren't believable, Issa said:
"What we heard from Hillary Clinton today was a rehashing of the talking points we've heard from her defenders over the last couple of weeks. Unfortunately, her explanations are not plausible and her statement did little to answer the many legitimate questions about the mishandling of these emails, including the security risks involved with her use of a non-government server for official communications. She also did not explain why she believed she had the right, for two years, and over the course of multiple investigations, to keep these e-mails from Congress, from the press, and from the American people."
Even now, Clinton is answering questions only because she got caught, not because she experienced an epiphany, Issa says:
"Had Mrs. Clinton merely followed clear precedent and stated policy, this would not have become an issue. Had she reported the e-mails when she received subpoenas to which the documents would have been responsive, this would have been much less of an issue. She did neither. That she is only now addressing this, years after the fact, seems to indicate her response has little to do with some sudden, revelatory desire for transparency."
Clinton expecting Americans to trust her, despite her controversial past, are insulting, Issa said:
"The expectation that we merely trust that Secretary Clinton shared all relevant e-mails and that the process of vetting the e-mails was as thorough and unbiased as it should have been is insulting given the Clintons' well-established history of misleading the American people.  This matter cannot be put to rest without a thorough forensic examination of the email server and an unbiased independent review of the records in question."