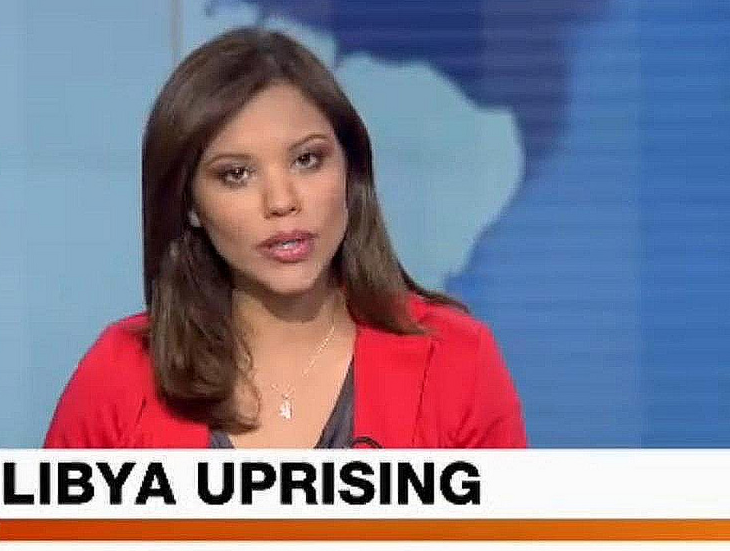 "One person's terrorist is another person's freedom fighter," wrote an executive in an email banning the words "Islamist," "jihad," "terrorist," "radical," and "extremist" from the news reports of media outlet Al Jazeera, according to an internal email obtained by National Review Online.
J. Carlos Van Meek, Head of Output for Al Jazeera English, wrote that the word "extremist" is too strong a word to use even for Boko Haram, the group responsible for the kidnapping and forced marriages of hundreds of Nigerian girls and the killing of thousands of Christian villagers: "Could write 'violent group' if we're reporting on Boko Haram agreeing to negotiate with the government."
"Avoid characterizing people," Van Meek wrote. "Often their actions do the work for the viewer." 
The Al Jazeera executive wrote that "key words… have a tendency of tripping us up."
"We do not use words such as militants, radicals, insurgents," said Van Meek. "We will stick with fighters. However these terms are allowed when quoting other people using them."
How could the news outlet prevent interview subjects from using certain words in any case – do they plan to censor interviews if disapproved words are used?
Check out the rest of his email: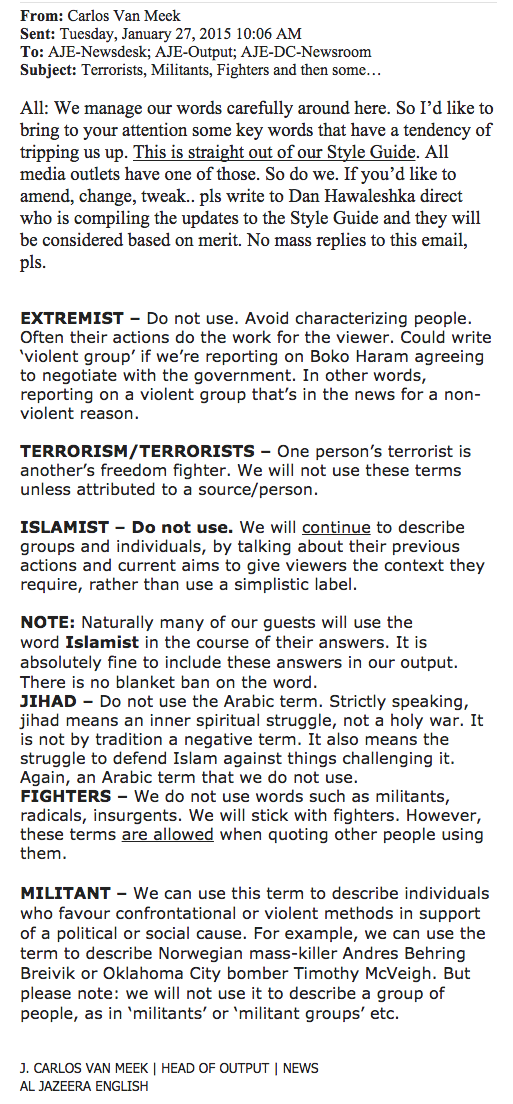 Email obtained by National Review
Al Jazeera America was created in 2013 and, like Russia Today, has made deliberate efforts to hire Western and American reporters. These efforts camouflaged the fact that it is controlled by the ruling family of Qatar and operated out of Doha.
Recent emails uncovered by National Review  have shown a drastic divide between the outlet's leaders and its Western reporters on the terrorist attack of  satirical newsmagazine Charlie Hebdo's Parisian offices.
Analysis of Al Jazeera's stories conducted by National Review shows that last year stories did use the terms "Islamic terrorists" and "German nationalists," but with one exception the word "Islamist" is used with scare quotes.
An attack by ISIS in Libya was referred to as committed by "gunmen." The outlet also uses Obama's term and calls them the Islamic State of Iraq and the Levant (ISIL) instead of the favored AP term of ISIS.