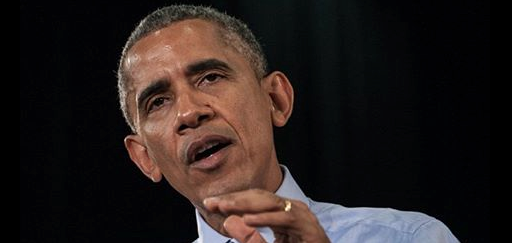 The White House will kick off a three-day summit Tuesday on "countering violent extremism."
During a background conference call on Monday previewing the summit's agenda, senior administration officials made clear that the discussion will not acknowledge "Islamic extremism," but "extremism" more broadly.
A White House official stated,
"Let's be clear. We recognize that violent extremism spans many decades and has taken many forms. But we all agree that the individuals who perpetrated the terrorist attacks in Paris and elsewhere are calling themselves Muslims and their warped interpretation of Islam is what motivated them to commit these acts. They're not making any secret of that, and neither are we.

"But we are very, very clear that we do not believe that they are representing Islam. There is absolutely no justification for these attacks in any religion, and that's the view of the vast majority of Muslims who have suffered huge casualties from the likes of folks like ISIL or al Qaeda."
He went on to say,
"So you can call them what you want. We're calling them terrorists."
"And the President is absolutely resolved to confront this threat," he added.
Another senior administration official explained,
"I think we will see through the complexity of the discussion that violent extremism is a broader trend, and that everyone will be approaching it through their own lens of their immediate concerns, but there are lessons to be learned across all forms of efforts to counter different types of violent extremism."
The White House summit will discuss domestic and international efforts to counter "different types of violent extremism" from "the bottom-up" with over 60 countries' representatives, the U.N. Secretary-General, and senior officials from various non-governmental and private sector organizations.
The Egyptian Foreign Minister is flying into Washington, D.C. today to participate in the conference just days after the execution of 21 Coptic Christians in Libya by ISIS. Jordan will also be participating following confirmation that a captive Jordanian pilot was burned alive by Islamic State fighters in Syria.
MRCTV Reader,
The liberal media are terrified of the truth, especially when it leads to uncomfortable questions about their own leftist worldview.
MRCTV is the multimedia division of MRC featuring original content and aggregated videos of the news, people, and events conservatives care about.
MRCTV relies on the support of our loyal readers (and video viewers) to keep providing the news and commentary that matter to the American people, not just stories that prop up the liberal agenda.
Make a donation today. Just $15 a month would make a tremendous impact and enable us to keeping shining the light where the liberal media are afraid to tread.
— The MRCTV Team
DONATE
Connect
Sign up for our MRCTV newsletter to receive the latest news.
Sponsored Links