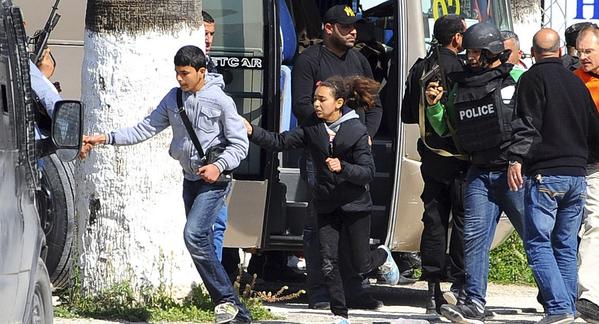 ISIS today claimed responsibility for the Wednesday terror attack on the National Bardo Museum that left at least 24 people dead, over 40 wounded. 
In a chilling audio message released via Twitter, the terror group said that the attack was just "the first drop of the rain, Allah permitting."
ABC News reports,
"In a 3 minute, 10 second audio message disseminated on twitter accounts associated with ISIS, the terror group said that the two dead gunmen, who it named Abu Zakaria al-Tunisi and Abu Anas al-Tunisi, 'launched and were heavily equipped with machine guns and hand grenades to target Bardo Museum.' 

"'The blessed immersing operation led to killing and wounding dozens of Crusaders and apostates,' the message said, 'and the failed security forces did not dare to approach but after the two heroes ran out of ammunition.'

"ISIS also threatened more attacks to come, saying 'what you have seen today is the first drop of the rain, Allah permitting. You will not enjoy security nor be pleased with peace while the Islamic State has men like these who do not sleep amidst grievances.'"
Following news of the massacre, Tunisian President Beij Caid Essebsi vowed to wage a "merciless war against terrorism," reports Aljazeera. 
"I want the Tunisian people to understand that we are in a war against terrorism," said Essebsi, "and that these savage minorities do not frighten us."
Members of the international community soon offered their condolences.
U.S. Secretary of State John Kerry released a statement at once condemning the terrorist attack as "wanton violence" and expressing solidarity with the Tunisian government. 
"We commend Tunisian authorities' rapid response to today's wanton violence and their efforts to resolve the hostage situation and restore calm," Kerry said. 
He also tweeted out the following: 
Victims of the assault, mostly tourists, include visitors from Japan, Italy, France, Australia, Colombia, Poland, and Spain. 
The gunmen reportedly opened fire as tourists deboarded a bus. The culprits were then seen chasing the tourists into the Bardo. 
The authenticity of ISIS' claim has yet to be verified, currently under analysis by U.S. officials. Tunisian authorities say they have arrested nine people purportedly linked to the attack.
UPDATE: The U.S. State Department said at a briefing today it is unlikely ISIS was behind the terror attack on the National Bardo Museum despite the terror group's claims.