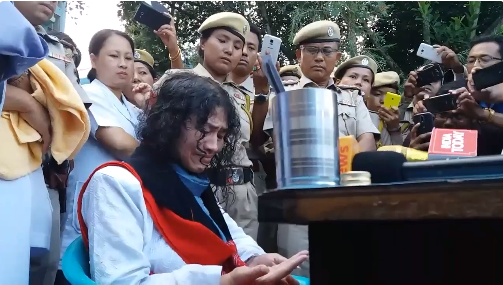 With a lick of honey, what is most likely the longest running hunger strike in the world, has come to an end.
The Indian activist Irom Sharmila, nicknamed the "Iron Lady of Manipur," was 28 when ten civilians were killed after a government-controlled paramilitary force opened fired on a crowd of civilians waiting at a bus stop in a small Indian village. The event would become known as the "Malom Massacre."
The paramilitary group was immune to any repercussions from the slaughter under the Armed Forces Special Powers Act (AFSPA), which gives the Indian military the power to kill anyone that is suspected of being a rebel in certain "disturbed" areas of the country. It also grants full immunity to the military, even if the dead happen to turn out to not be a threat.
Many critics of the law claim that the government is able to commit atrocities and abuse power under the pretext of crushing potential rebellion.
After the massacre, Sharmila decided to go on a hunger strike until AFSPA was repealed. For almost 16 years, Sharmila hasn't eaten because the law  hasn't been repealed.
Sharmila has spent most of her time in a hospital in Imphal, India, being force-fed through a nasal tube, in judicial custody. Sharmila was arrested after only three day of her hunger strike on the charge that she was trying to commit suicide. Although the charges were dropped, she was arrested another 13 times over the course her hunger strike on the same charge.  
But after nearly 16 years of struggle, Sharmila decided that it was time to put an end to her fast, admitting that she no longer believes that her hunger strike would bring an end to AFSPA.
"I have been fasting for 16 years and not got anything for it," she said during a recent court appearance. "I want to try different agitation now--one that will see me contest against the chief minister of the state."
Sharmila was granted bail on Tuesday, after she promised that she would end her fast.
Sharmila plans to continue to dissent, but in a more vocal way.
"I want to join politics because I've been called the Iron Lady of Manipur and I want to live up to that name," announced Sharmila.
"I have to change my strategy. Some people are seeing me as a strange woman because I want to join politics. They say politics is dirty, but so is society. I want to stand in the election against the government," she said in a press conference on Tuesday.