According to translated reports from a Farsi news agency, a far-left Iranian group that really, really has it out for Israel and the U.S. has reportedly offered $100,000 to anyone who successfully blows up the brand new U.S. embassy that opened Monday in Jersusalem.
From the Washington Free Beacon:
A hardline Iranian organization is reportedly offering a $100,000 reward to any person who bombs the newly opened U.S. embassy in Jerusalem, according to a translation of Farsi language reports.

A group known as the Iranian Justice Seeker Student Movement is reported to have disseminated posters calling for an attack on the U.S. embassy in Jerusalem, which has been opposed by Palestinian and Iranian officials as an affront to the holy city.

"The Student Justice Movement will support anybody who destroy the illegal American embassy in Jerusalem," the poster states in Farsi, Arabic, and English, according to an independent translation of the propaganda poster provided to the Free Beacon.

There will be a "$100,000 dollar prize for the person who destroys the illegal American embassy in Jerusalem," the poster states.
For those of you who speak Farsi or Arabic, here's the poster: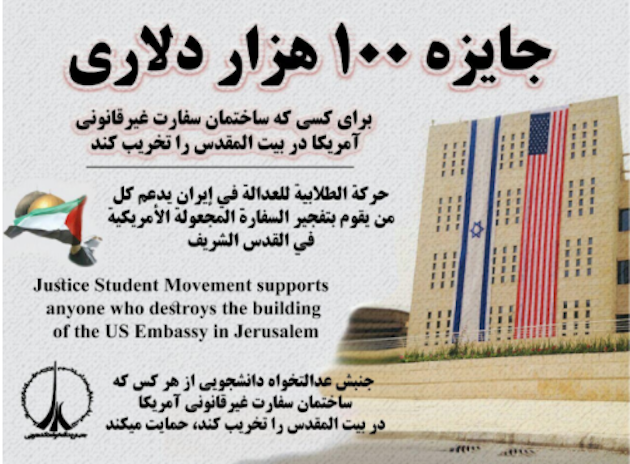 The Free Beacon adds the bomb threat was first reported by the University Student News Network, a regional Farsi-language site, and translates as such:
"'Whoever bombs the embassy's building will receive a $100,000 award. It is necessary to mention that the steps by Trump to transfer the US Embassy to Holy Qods [Jerusalem] has led to the anger and hatred of Muslims and liberators throughout the world."
The alleged call for someone to blow the building to smithereens (or, more likely, die trying) comes after dozens of Palestinian rioters were shot to death attempting to tear down the fence on the Gaza strip and torch Israeli land – after being repeatedly warned not to.
But yes, we should totally lift sanctions on terrorism sponsors and pave their pathway to nuclear weapons and let violent anti-Jew rioters storm into Israel to throw molotov cocktails and torch land "protest."
For "peace."