While things like this won't help anyone that needs rescuing, sometimes a symbolic moment can galvanize people into keeping their hopes up in the middle of tragic devastation.
One meteorologist covering Hurricane Harvey in Rockport, Texas for the Weather Channel took matters into his own hands when he saw an American flag in peril.
The Weather Channel's Paul Goodloe was out in the middle of the rain and wind in Rockport on Saturday when he noticed an American flag surrounded by the fallen top of a palm tree. In a moment of proud patriotism, Goodloe referenced the flag as "Old Glory."
"Next to it, we've got Old Glory," Goodloe said after commenting on the fallen tree, "I can't just let Old Glory just sit here like that."
Here is the video of Goodloe inspiring act:
"We've got to fold this up and make sure this isn't a casualty of Hurricane Harvey," Goodloe said on live TV.
Goodloe's cameraman then assisted Goodloe in properly folding the flag in order to save it and return to the school that the flag had been flying above.
Goodloe has rightfully received tons of praise after performing such a profoundly American deed. In response, the reporter posted to Facebook thanking those who thanked him for doing what he said was just "the right thing to do."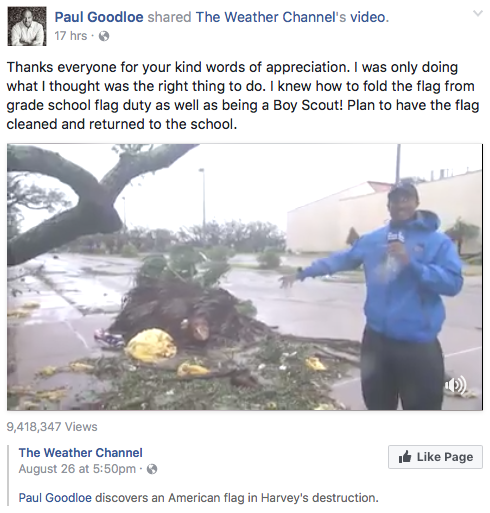 H/T: Daily Wire