Isn't racism wonderful? It provides us with an example of the worst that society has to offer. The problem is that some of these bigots hold positions in which they are tasked to help the same people they hate.
Case in point is a nurse in Indiana who posted, on a now-deleted Twitter account, that she believes that "Every white woman raises a detriment to society when they raise a son."
Here's the deleted tweet: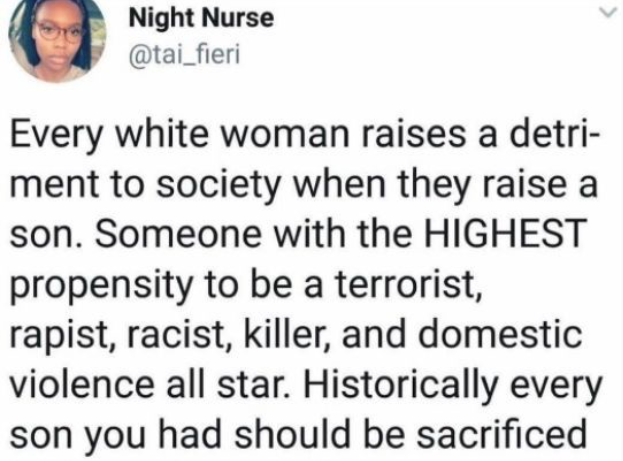 Let's see, racism and sexism from a person who supposedly opposes racism and sexism. Check and check. Has anyone else had just about enough of this modern feminist B.S.?
Why is it that every time a racial equality-supporting modern feminist preaches to the rest of us, it's full of racist and sexist language? That's because they're too ignorant to realize that they are the main perpetrators of the very things they claim to hate.
The Indiana University Health nurse, Taiyesha Baker, reportedly doesn't have a job anymore, but IU health isn't saying why. They also do not use her actual name in any of their statements, citing company policy.
It certainly seems like Baker has a high "propensity" for being racist, and don't forget sexist too.
Thank you for supporting MRCTV! As a tax-deductible, charitable organization, we rely on the support of our readers to keep us running! Keep MRCTV going with your gift here!
MRCTV Reader,
The liberal media are terrified of the truth, especially when it leads to uncomfortable questions about their own leftist worldview.
MRCTV is the multimedia division of MRC featuring original content and aggregated videos of the news, people, and events conservatives care about.
MRCTV relies on the support of our loyal readers (and video viewers) to keep providing the news and commentary that matter to the American people, not just stories that prop up the liberal agenda.
Make a donation today. Just $15 a month would make a tremendous impact and enable us to keeping shining the light where the liberal media are afraid to tread.
— The MRCTV Team
DONATE
Connect
Sign up for our MRCTV newsletter to receive the latest news.
Sponsored Links