It seems as though the very vocal minority of people that live on social media has once again proved critics of them correct by finding something new to complain about — a Hispanic man praising President Donald Trump.
Goya Foods, the largest Hispanic-owned food brand in the U.S., is facing a harsh backlash after the company's CEO Robert Unanue praised Trump during a press conference to announce the administration's "expansion" of the Hispanic Prosperity Initiative.
Unanue spoke about how his grandfather came to the U.S. from Spain in 1936, when he was 18, "looking for opportunity." A minute or two later was when Unanue complimented Trump.
Here's part of what Unanue said on Thursday:
Today, it gives me great honor — and, by the way, we're all truly blessed at the same time to have a leader like President Trump who is a builder.  And that's what my grandfather did: He came to this country to build, to grow, to prosper.  And so we have an incredible builder, and we pray — we pray for our leadership, our President, and we pray for our country that we will continue to prosper and to grow.
How dare he?! Of course I'm being sarcastic, but people — including failed Democratic presidential candidate Julian Castro and socialist Rep. Alexandria Ocasio-Cortez (D-N.Y.) — were upset with Unanue and are calling for a boycott of the Goya.
.@GoyaFoods has been a staple of so many Latino households for generations.

Now their CEO, Bob Unanue, is praising a president who villainizes and maliciously attacks Latinos for political gain. Americans should think twice before buying their products. #Goyaway https://t.co/lZDQlK6TcU

— Julián Castro (@JulianCastro) July 9, 2020
Unanue has seemingly locked his Twitter account, but the Goya Foods account is still receiving threats of a boycott from ignorant users, some of which display their own racism: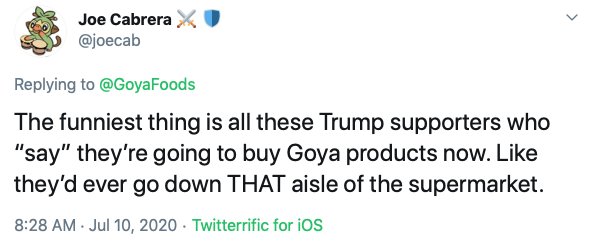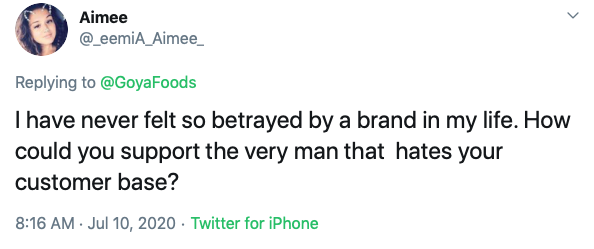 I'm sorry (not really), but good Lord people are dumb. Think of it this way. If I stopped watching every single movie that had someone in it that I disagreed with politically or philosophically, there'd be like eight movies that I'd actually watch.
In response to the rabid response from the Twitterati, Unanue went on "Fox & Friends" Friday morning to stand by his comments. He mentioned how he also visited the Obama White House and said kind things about former president Barack Obama because of the honor it is to be invited, but also noted the double-standard since Trump has been in office.
You're allowed to talk good, or to praise, one president, but you're not allowed — when I was called to be part of this commission to aid in economic and educational prosperity and you make a positive comment [about Trump] — all of a sudden that's not acceptable. So, you know, I'm not apologizing for saying — and especially if you're called by the president of the Unites States, you're going to say 'No, I'm sorry. I'm busy. No, thank you.' I didn't say that to the Obamas and I didn't say that to President Trump.
Simply for the fact that Unanue isn't cowering to the cancel culture and outrage mobs by not apologizing, he should be commended.
For the full "Fox & Friends" segment with Unanue, watch below: