While the number of coronavirus cases in the United States continue to climb, another important total has taken a nosedive: the number of illegal aliens crossing into the United States. 
According to U.S. Customs and Border Protection, the number of illegal aliens apprehended between ports of entry at the Southwest U.S. border in March plummeted nearly 70 percent from this time last year. While nearly 104,000 illegal aliens were caught at the border in March of 2019, only 33,000 were nabbed during that same time frame this year. Fewer than 3,000 unaccompanied minors were caught in March, along with 3,367 members of family units. Nearly 24,000 of those caught in March were single adults.
Apprehensions were also down by more than half year-over-year in February, with CBP reporting having made just 36,500 apprehensions this year compared to about 76,500 in February of 2019.
In fact, during the first six months of this fiscal year, which began in October, monthly apprehensions at the Southwest U.S. border have been lower each month than during the same time frames last year. While FY2019 saw a startling increase in illegal border crossings, prompting national outrage and a slew of accusations from the left over the White House's handling of the influx of families and children, 2020 has marked a return to lower levels of illegal immigration more in line with the first two years of the Trump administration.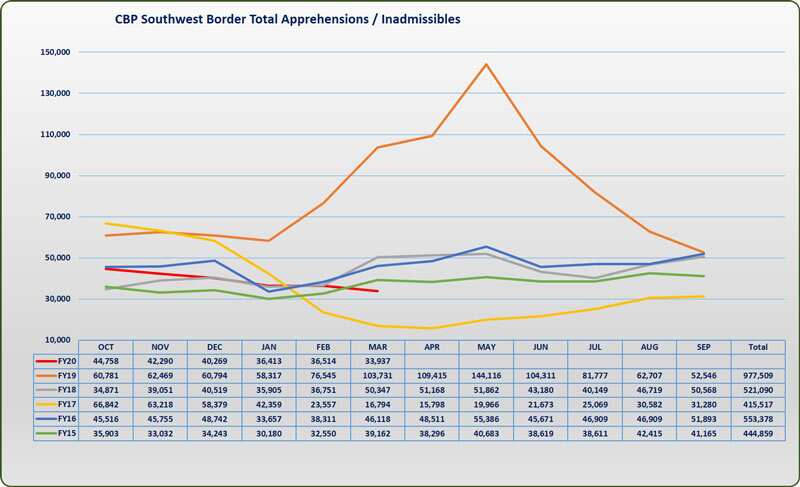 The massive drop comes as many countries, including the U.S. and Mexico, have enacted greater travel restrictions across their borders, including for tourists, regular commuters, and legal immigrants. The U.S. and Mexico reached an agreement on March 21 to close the border between countries to all non-essential travel to limit the spread of the coronavirus, limiting hours at many ports of entry and even closing some altogether.