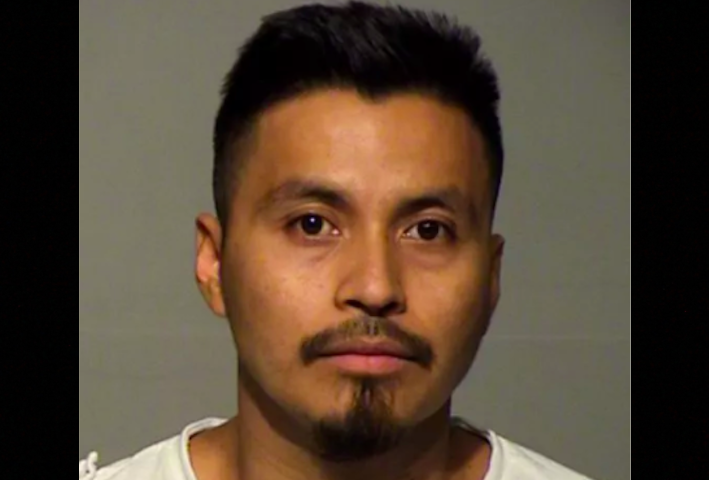 Photo of Horacio Alvarado via Milwaukee County Sheriff's Office / Milwaukee Journal Sentinel 
An illegal immigrant has been charged with first-degree sexual assault resulting in pregnancy, repeated sexual assault of a child, and incest after impregnating his stepdaughter, a minor, in a sickening ploy to avoid deportation.
Horacio Alvarado, 32, believed in the "anchor baby" myth, the mistaken notion that having a U.S. citizen child can block a person who is in the U.S. illegally from being deported. He thought if he could show he was the father of a newborn American citizen, he would be able to stay in the country. Instead, he got charged with three felonies "for what investigators say were several years of sustained sexual assaults, assaults his wife later knew about yet did nothing to prevent," USA Today's Journal Sentinel reports.
His step-daughter came forward last month to report the offenses and filed a criminal complaint against him. The complaint says the assaults began when she was 14 and continued for four years, taking place at her home when her mother was at work, late at night when her mother was asleep, at Alvarado's friend's home, or in random parking lots in Alvarado's car.
"The assaults continued after the victim became pregnant at 15 and later delivered the child, the complaint says," according to the Journal Sentinel. "When she was 17, the victim told police, her mother walked in on Alvarado sexually assaulting her in their home. The mother then sat down and spoke with her husband in Spanish but said nothing to her, and the assaults continued.
"The complaint doesn't indicate when, but at some point, the girl told her mother that Alvarado was the father of her child, and his paternity was established in court in 2015, and there appeared to be a dispute between the victim and Alvarado regarding custody of the child earlier this year."
Police investigating the sexual assaults confirmed Alvarado's paternity of the victim's child and also confirmed that he was married to the victim's mother during the time his stepdaughter said he was regularly assaulting her.
Alvarado pleaded not guilty to all three felonies in a court appearance last week. He is being held on $20,000 bail and has a bail hearing next week.
His wife who knew about the sexual assaults was charged with child neglect. 
Thank you for supporting MRTV! As a tax-deductible, charitable organization, we rely on the support of our readers to keep us running! Keep MRCTV going with your gift here!