President Donald Trump previously called for the resignation of Rep. Ilhan Omar (D-Minn.) from the House Committee on Foreign Affairs. And if a "no" vote that Omar made in 2017 while a member of the Minnesota House of Representatives is any indication, Omar may face renewed calls for her removal from said committee.
The Daily Caller News Foundation (DCNF) released a fact check about a claim that Turning Point USA founder Charlie Kirk tweeted about Omar.
Here's Kirk's tweet: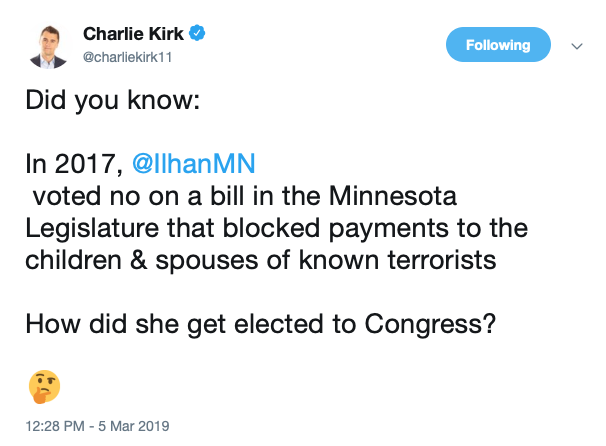 That's a pretty spectacular claim that absolutely warranted a fact check concerning its validity. After doing their due diligence, the DCNF confirmed Kirk's claim that Omar did in fact vote against Minnesota House File 1397 (H.F. No. 1397) which placed a "limitation" on life insurance "payments to beneficiaries of persons furthering terrorism."
According to The Daily Caller's fact-checking website, checkyourfact.com:
Voting records show that as a state representative, Omar was one of two members to vote against H.F. 1397, a 2017 bill that sought to allow life insurance companies the ability to deny payouts to beneficiaries "if the insured's death occurs directly or indirectly as a result of the insured's furtherance of terrorism."[…]

The Minnesota bill passed the House in a 127-2 vote. Omar and fellow state Rep. John Lesch were the only members to vote against the bill. Lesch voiced concern that the wording of the bill might give insurance companies too much discretion over what constitutes terrorism.
However, while Lesch did give a reason behind his "no" vote, he also said that he understood the motivation for the bill.
"Terrorists should not be able to send life insurance benefits to beneficiaries based on bad faith recent policy purchases," Lesch told Minnesota news outlet Alpha News, "I think we can all agree on that."
DCNF noted that Omar's office "did not respond to a request for comment," and as mentioned above, it remains "unclear why Omar voted against the bill."