According to headlines around the world, Iceland became the first country to legally enforce "equal work for equal pay" requirements when it ushered in the new year.
A glowing review in the BBC claims that on New Years Day, Iceland began requiring businesses with 25 or more employees to prove—with a certificate—that they pay everyone with the same job equally, regardless of gender.  Government bureaucrats will be responsible for enforcing equal pay by monitoring businesses and fining those that do not comply.
The World Economic Forum championed the move, claiming, "In Iceland it's now illegal to pay men more than women," making it the "first country to legalise equal pay."
The move also won praise from feminist actress Patricia Arquette and Sen. Bernie Sanders (I-Vt.).
#Iceland Setting the stage to be the 1st Nation on Earth to eliminate the gender wage gap & #timesupnow Is starting 2018 off right! 💥

— Patricia Arquette (@PattyArquette) January 2, 2018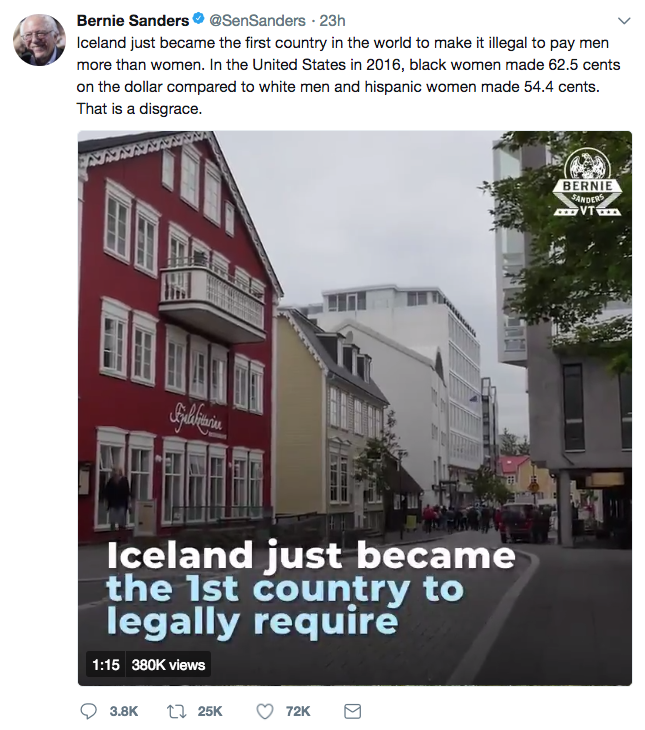 As Donald Trump Jr. mockingly pointed out, however, Iceland is not, in fact, the first country to make equal pay the law of the land. The Equal Pay Act of 1963 prevents pay discrimination based on gender in the United States:
No Iceland is not the first, the US did his about 50 years ago. Good thing he's not in government so he wouldn't know about The Equal Pay Act of 1963... oh wait. https://t.co/ZqB6CfJ233

— Donald Trump Jr. (@DonaldJTrumpJr) January 4, 2018
As NPR points out, the concept of the law isn't new or unique to Iceland. Iceland, however, is the first country to compel businesses to prove through a review that there isn't alleged discrimination on the basis of gender.
While this Iceland law makes it illegal on paper to discriminate on the basis of gender, NPR notes that it is possible to pay men more than women if the reason for doing so is in writing and if the worker "adds extra value to the work."
Thank you for supporting MRCTV! As a tax-deductible, charitable organization, we rely on the support of our readers to keep us running! Keep MRCTV going with your gift here!