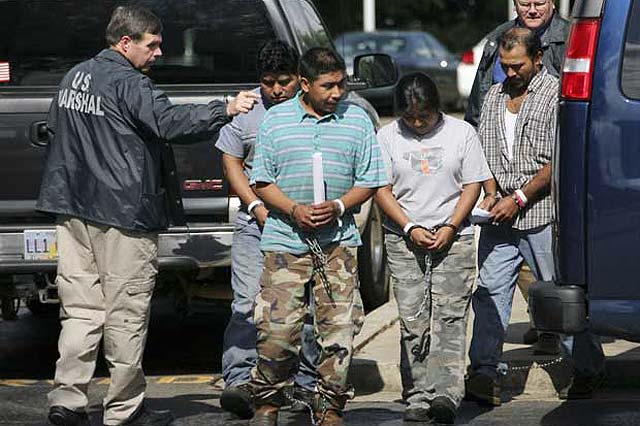 Everyone ready to congratulate the federal government on doing their job? Great!
Earlier this month, U.S. Immigration and Customs Enforcement (ICE) apprehended – wait for it – 0.0002 percent of the criminal illegal aliens currently loose on the streets of the United States. And they want us to be super excited about it.
At a recent congressional hearing, ICE Director Sarah Saldaña testified there were about 179,000 "undocumented criminals with final orders of removal" loose in the United States. The director added between 30,000 and 40,000 of these criminals had been detained at some point, but were released by authorities because of legal restrictions on how long a criminal illegal alien can be held in custody.
But never fear! According to the agency's website, ICE arrested 39 illegal aliens who'd been convicted on a crime during a large-scale sting operation across West Virginia, Pennsylvania and Delaware between Nov. 30 and Dec. 4. Included among these were 17 individuals arrested in the Philadelphia area, another six caught in Pittsburg, and seven apprehended in Charleston.
According to the brief description listed on ICE's website, the criminal histories of the arrested persons included sex offenses (one against a minor), domestic violence, theft, illegally carrying a firearm and driving under the influence.
In one self-serving pat on the back, the agency then bragged about their "tireless efforts" in managing to catch a whole two out of every 10,000 criminal illegal aliens currently living in the United States who pose a threat to Americans and other members of immigrant communities:
"Due to the tireless efforts of the ICE enforcement officers, more than three dozen convicted criminals were taken off the streets," said Tom Decker, ERO Philadelphia field office director. "We will continue to ensure our country is not a safe haven for nefarious foreign nationals."
So if ICE apprehended 39 criminal aliens in 5 days, that clocks in at about 7.8 aliens per day. If the agency continued this torrid pace day after day after day, it would take them almost 63 years to apprehend all 179,000 of the criminal aliens we have on our streets today.

Thanks, ICE. We can all sleep much more easily now.