Ugh, Hollywood. At this point, they've become so disconnected with the real world and the average person that their "activism" should really just be pointed at and laughed at for their faux outrage. Just in case you thought the "Imagine" video they did to promote unity during the ongoing COVID pandemic was the most cringey thing they've ever done, celebrities seem to be trying to one up themselves in the wake of the death of George Floyd.
A bunch of guilty, white actors and actresses did yet another compilation video - but this time in black and white so you know they mean business - in order to convey the message, "I take responsibility" for racism against black people.
The "I Take Responsibility" movement, which is a new social justice movement in partnership with the NAACP and movie production company Confluential Films, "was created to stand up for our Black friends and family in America; rallying the white community to educate and take action." Unless you click the tiny logo in the corner of the movement's website, you are essentially forced to pick from pre-approved race crimes that you will "take responsibility" for so that racism can end.
The website's "About" section provides a further insight on who in particular needs to end racism, as if white people are the people who can be guilty of racism:
ITakeResponsibility.org was created to stand up for our Black friends and family in America. Our goal is to rally the white community, to provide education and encourage action. Our mission is to ensure this takes place[...]

Enough is enough.

This begins with white men and women taking responsibility for their personal role in eradicating racism in America — taking a stand and committing to change.
Anywho, the video in question stars self-righteous celebrities including Debra Messing, Aaron Paul, Julianne Moore and Kristen Bell, among others. They all sit in front of a camera - separate from each other - and begin to preach about how everyone needs to "take responsibility" for racism against black people.
The celebrities went on about how doing everyday things "should not be a death sentence," referencing the killing of individual black people by police officers. Not once did any of the celebrities give officers in general any slack. Paul looked particularly angry towards the end of the video when talking about police.
"And killer cops must be prosecuted," Paul said. "They are murderers. We can turn the tide."
Of course cops that unjustly shoot people should be prosecuted. Who disagrees with that? And nevermind the fact that "police fatally shot nine unarmed blacks and 19 unarmed whites in 2019," according to a Wall Street Journal article that referenced a Washington Post database. One unjust death is too many, but officers aren't slaughtering black people by the thousands like the outrage mob would have you believe.
No word yet on whether Paul is giving up his acting career to join the police force so that he can help "turn the tide."
Regardless of their message, the video is a test of one's will to not cringe when watching it:
While Twitter might be the most cancerous place on the internet, they still come through every and then when criticizing the self-righteous is so clearly warranted: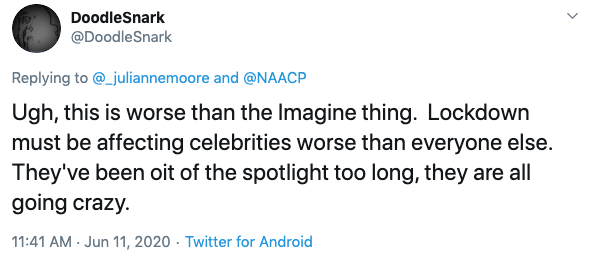 On a side note, by celebrities "taking responsibility" for racism, are they saying that they used to be racists themselves? Just a thought.