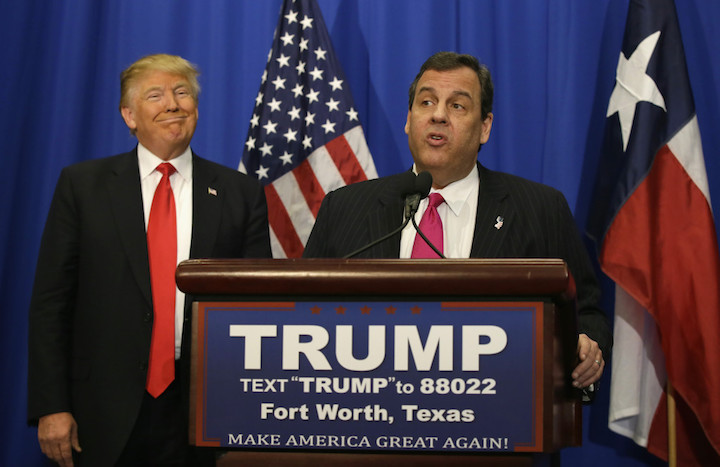 They say that politics makes strange bedfellows - and that was never more true than with Friday's Chris Christie endorsement of Donald Trump. 
For example, Gov. Christie (R-NJ) has called Trump's comments about Muslims "the kind of thing that people say when they have no experience and don't know what they're talking about."
But, Friday was a love-fest, as Mr. Trump introduced the NJ governor with glowing praise:
My honor this morning to introduce somebody who is a real standout. He has been my friend for many years. He has been a spectacular governor. He has been just a wonderful person and a wonderful loyal person.
Spectacular governor?  That's not what Trump said a few weeks ago. On February 1, he appeared on Good Morning America and said:
"Chris took himself down when he did the George Washington Bridge, and he took himself down when he's rated number 50 out of 50 in New Jersey," Trump said. "I mean, it's the 50th worst state, meaning it's last."
During his endorsement speech on Friday, however, Chris Christie had nothing but kind words for his "good friend" Donald Trump:
And there is no one who is better prepared to provide America with strong leadership that it needs both at home and around the world than Donald Trump. He is looking at five people on that stage last night, the clear standout and the person who will do exactly what needs to be done to make America a leader around the world again. He will provide strong, unequivocal leadership. He will do what needs to be done to protect the American people first and foremost, both in the homeland and in creating jobs for this country. And, he will make sure that people around the world know that America keeps its  word again. Donald Trump is someone who when he make a promise he keeps it. I've experienced that over my long friendship with him and what the American people and our allies around the world are going to understand is that Donald Trump is someone who keeps his word and that means America will keep its word again. 

Third, there is no doubt in my mind, and I've been saying this right from the time I entered the campaign, the single most important thing for the party is to nominate the person who gives us the best chance to beat Hillary Clinton. I can guarantee the one person that Hillary and Bill Clinton do not want to see on the stage come next September is Donald Trump
Christie was so convincing that many viewers probably forgot that, in August, he strolled down the Jersey Shore boardwalk with Fox News' Greta Van Susteren and said of Trump, "I don't think his temperament is suited for that and I don't think his experience is."
But, all that is water under the bridge now (probably not the George Washington Bridge, though), because, in late December, Trump said it was impossible for the NJ governor to not know about bridge-gate. 
"They're closing up the largest bridge in the world — the biggest in the United States — traffic flowing during rush hour," Trump continued. "People couldn't get across for six, seven hours. Ambulances. Fire trucks."

"They're with him all the time, the people that did it," he added. "They never said, 'Hey, boss, uh, we're closing up the George Washington Bridge.' No, they never said that, they're talking about the weather? Right?"

"He knew about it," Trump concluded. "He totally knew about it. He's got a very friendly group of people over there."

The businessman then suggested there is "a less than 1 percent" chance Christie didn't know about the closings ahead of time.

But Trump wasn't done. He then attacked the nine credit downgrades under Christie and the fact that New Jersey consistently ranks as having among the highest property taxes in the nation.

"Nine downgrades," Trump said. "It's a disaster. I have property over there. The taxes are through — I'll use an expression: coming out of my ears. Tremendous taxes over there."
But, on Friday, Donald Trump called Chris Christie a "spectacular governor."
Christie's endorsement speech proves that he's forgotten all about those nasty things Trump has said about him. And, for his part, surely Donald Trump has forgotten how Chris Christie has described him in the past.
Like his speech at Saint Anselm College in New Hampshire on Jan. 4, where Christie said
"We are not electing an entertainer-in-chief. Showmanship is fun, but it's not the type of leadership that will truly change America," Christie said on the campus of Saint Anselm College in Goffstown, New Hampshire. "If we're going to turn our frustration and anger with the D.C. insiders and the politicians of yesterday and the carnival barkers of today into something that will actually change Americans' lives, then we must elect someone who has been tested, someone with proven experience."
At the end of January, Christie was talking about Trump when he said:
Said Christie: "I will never embarrass you. I promise you: I will make you proud every day I'm in that job."

He added: "He gives an hour-long rambling speech where he insults everybody within spitting distance of him, he signs a bunch of hats then throws them into the crowd, and he leaves. When you do that, you don't have to answer, 'How?'"
Strange bedfellows, indeed!
Below is the speech Chris Christie gave on Friday as part of his endorsement of Trump: