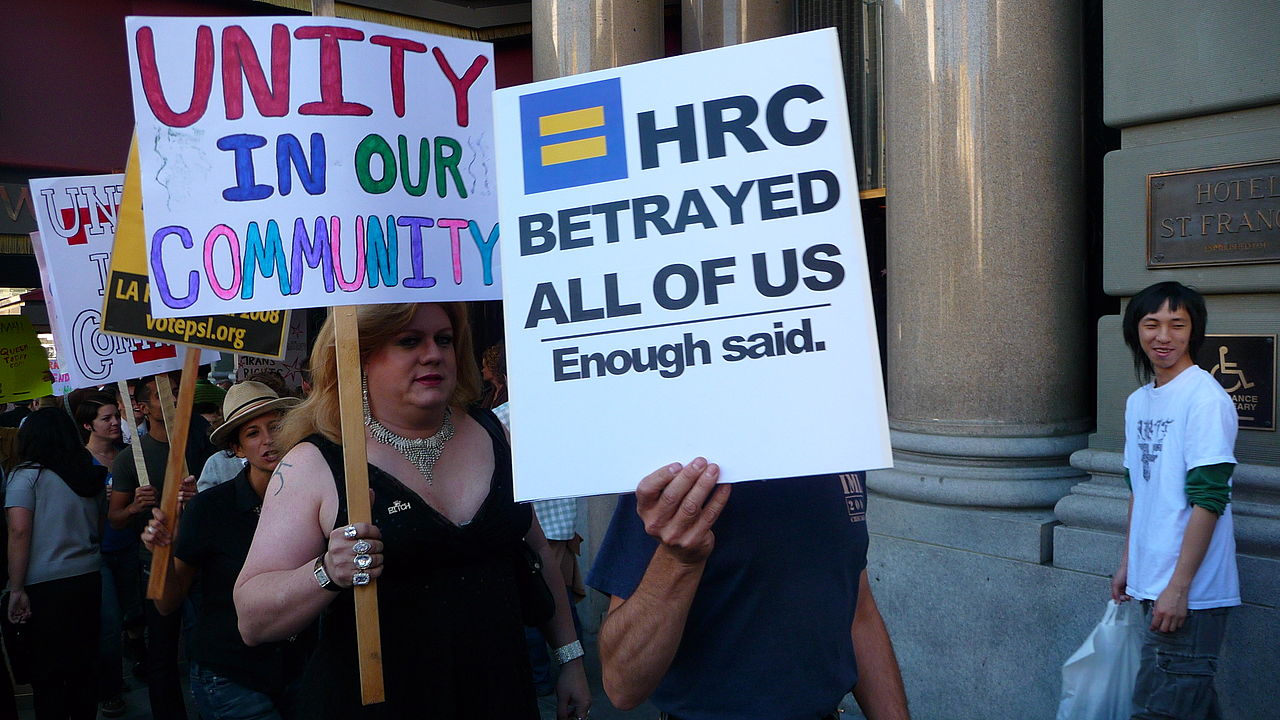 Ironically, the Human Rights Campaign has diversity problem, according to a report commissioned by the non-profit itself. 
The HRC is now being described as a "White Men's Club" for it's "extremely judgmental working environment, particularly of women and feminine-identified individuals."
According to a report produced by Pipeline Consulting obtained by BuzzFeed News, the self-described "largest civil rights organization working to achieve equality for lesbian, gay, bisexual and transgender Americans" suffers from a "lack of diversity" that particularly impacts transgender individuals and women.
In its mission statement, the HRC explicitly mentions its committment to helping the "transgender community." Pipeline Consulting's report, however, found that "100% of trans/genderqueer people" working for the HRC feel "bias against them."
The complaints of the "transgender/genderqueer" staff include feeling "tokenized," not feeling safe to "come out," being "frequently misgendered" despite repeated correction, only having one gender-neutral bathroom available, and having to abide by a dress code that is not inclusive as it is "labeled male or female only."
The HRC was also found to have problems with its attitude towards a particularly large portion of the population: women.
According to the report, individuals found there is "visible misogyny" and "femophobia" at the non-profit. One particular focus group comment said, quote,
"Sexism is rampant at HRC."
Survey respondents reported feeling as if "feminine traits" were not appreciated. One individual lamented, "[S]traight women and lesbians get sexist treatment from gay men at HRC."
These responses led Pipeline Consulting to conclude that, "[D]iversity only exists within lower tiers of organization; leadership is made up of gay, white men."
Concerned over the organization's commitment to "diversity and inclusion," one staff member said,
"We are supposed to be fighting for people who are being discriminated against and marginalized, however we at HRC are discriminating against people and marginalizing people in the workplace."
In response to the backlash after the internal report was leaked by an anonymous source last week, the HRC has released a list of actions it has been taking and will continue to take in the future.
According to its "progress since the Pipeline Report," the civil rights organization has taken steps such as restructuring human resources, creating new resource groups for transgender individuals and women, updating the dress code, and asking people about their preferred pronouns. The organization also hopes to, in the future, add more gender-neutral bathrooms and to increase the amount of diversity training.
Chad Griffin, the president of the Human Rights Campaign, wrote in a statement:
"As we fully anticipated, the report flagged problem areas that the organization has already begun to tackle aggressively. We'll continue to address them, one by one, as any serious organization recognizing these challenges would."
Considering the HRC has scolded others for being "transphobic" and has resources on its website dedicated to the topic of "transgender inclusion," these the Pipeline Project findings reveal blatant hypocrisy.
Perhaps, after review, the Human Rights Campaign can live up to its mission of "a world where lesbian, gay, bisexual and transgender people are ensured equality and embraced as full members of society at home, at work and in every community" before criticizing others.