Did you know the United States is keeping roughly 1.9 billion people in cages?
That's right, 1.9 billion. If you didn't, don't worry, neither did anyone else – that is, until a socialist told us about it.
In a now-deleted tweet, Democratic Rep. and "Squad" member Ayanna Pressley claimed that "1 out of 4 [people] in the world are locked away in cages in America," citing our "moral obligation to do something" about this crisis.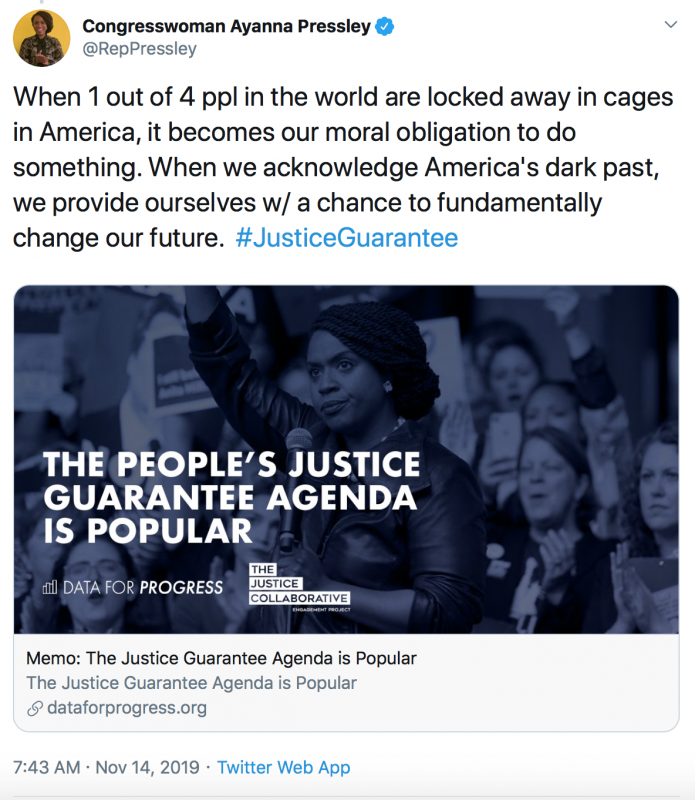 Running some basic math here, given that there are about 7.7 billion people on the planet, that would mean somewhere in the neighborhood of 1.9 billion people are locked up in the United States, which would be an impressive feat – even for the ever-evil, concentration camp-running Trump administration. 
Pressley quickly deleted her tweet after getting called out for her bogus numbers, replacing it with the statement, "1 out of 4
prisoners
." But while the error could be generously chalked up to a simple typo, it does prove one pretty serious fact: that in the effort to score political and emotional brownie points, for many progressive politicians, it's "type first, think later."
MRCTV Reader,
The liberal media are terrified of the truth, especially when it leads to uncomfortable questions about their own leftist worldview.
MRCTV is the multimedia division of MRC featuring original content and aggregated videos of the news, people, and events conservatives care about.
MRCTV relies on the support of our loyal readers (and video viewers) to keep providing the news and commentary that matter to the American people, not just stories that prop up the liberal agenda.
Make a donation today. Just $15 a month would make a tremendous impact and enable us to keeping shining the light where the liberal media are afraid to tread.
— The MRCTV Team
DONATE
Connect
Sign up for our MRCTV newsletter to receive the latest news.
Sponsored Links