The Huffington Post is accusing "unruly whites" of "flying into a destructive rage" against Nike Tuesday, after the popular sports apparel brand announced they'd signed failed NFL quarterback-turned-social justice activist Colin Kaepernick as the new face of their "Just Do It" campaign.
According to HuffPo, this "destructive rage" includes people burning their own Nike gear and posting photos of it on social media (lest it be confused with "destructive rage" of folks like, say, Antifa, who tend to smash windows, torch cars, and beam strangers upside the head with bike locks).
"Unruly whites were seen vandalizing property, damaging well-mown lawns and setting fire to running shoes that had chiefly been worn for purposes other than running," HuffPo claimed, apparently traumatized that some middle-aged white guy would dare risk his wife's azalea bush just to torch a pair of 2009 Monarchs he usually throws on to clean out his gutters.
Hundreds of Twitter users were quick to point out that they, in fact, had gone about their life quite normally, thanks – including many white people who said they actually support Nike's campaign and are pretty offended that HuffPo would lump all white people into the same category just to sow division. Others demanded to know just how much "destruction" HuffPo thought white people had caused. (Spoiler alert: none.)
 
As a card carrying member of the white community, I can assure you that, not only did I not fly into a rage, I ordered 3 new pairs of Nike's for myself, my husband and son. Get it straight.

— Teresa (@dearmrfantasy41) September 5, 2018
How many cars were burned? Store windows shattered? Stores looted? Businesses destroyed? Police cars burned?

NADA. Zilch. Nothing.

— Arthur (@Arthur90875747) September 5, 2018
I think it's time that more people spoke out against the destructive rage of the white community. Blaring their Barry Manilow music while they loot the Pottery Barns and carry Dockers out of the shoe stores by the handful. This white menace must be stopped.

— John Hawkins (@johnhawkinsrwn) September 5, 2018
What was destroyed? Aside from Nike stocks?

— Jason Hanson 🇺🇸 (@jhansonlpn) September 5, 2018
Excuse me- but will you please report the cities like Ferguson, MO, or Baltimore, MD the white community have destroyed with all of this destructive rage? And please post photographs of the burned police vehicles, looted stores, etc. #ThankYou

— Major Victor Bravo❌ (@Conservatexian) September 5, 2018
Also, explain this to me please, as simply as possible, what exactly is the correlation between damaging my own personal property, and causing widespread damage to the property of a community? I'm just curious, can you explain that? No? I figured.....

— Edgelord Games (@TheLibertyEdge) September 5, 2018
"Destructive"...I didn't see one person rioting or burning down any cities this weekend

— Austin (@ItsAustinLutz) September 5, 2018
Just to recap, behold the "destructive rage" of "unruly whites"...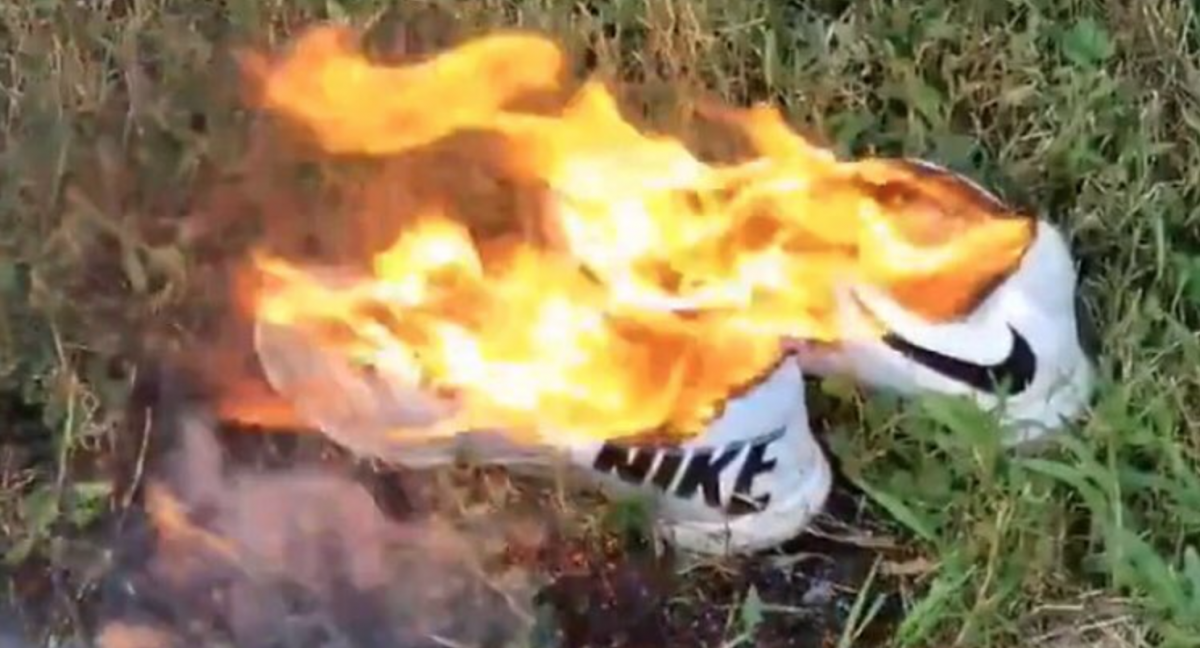 ...versus the destructive rage of Antifa and Black Lives Matter: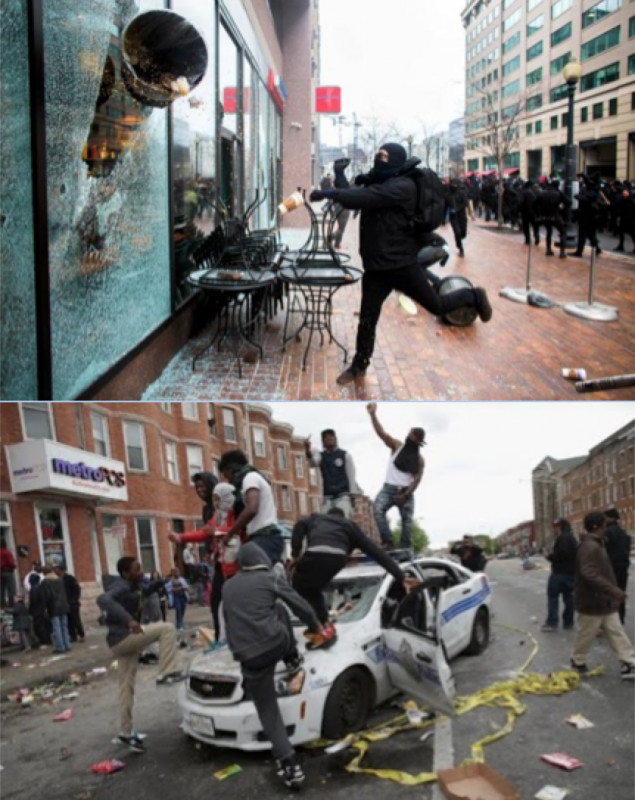 Completely oblivious to the utter absurdity of lumping millions of white people – including liberals – into the same pile just to slam anyone who doesn't bow to Colin Kaepernick's temper tantrum, the Huffington Post demanded to know if white people were "trying to start a riot" by destroying their own socks (again, see above photos).
"In response to Nike's actions, whites organized around hashtags like #JustBurnIt and #BoycottNike, and posted videos of themselves peeing on their shoes,burning sneakersand cutting the Nike symbolout of clothing they already owned," HuffPo complained.
"These acts raise questions about deep pathologies in the white community. Why would whites destroy their own property?"
Well, HuffPo, probably because it's better than destroying someone else's. That's usually the other side.