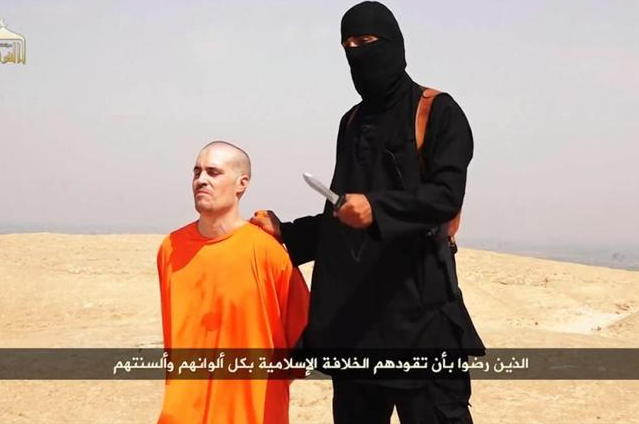 The Islamic State's beheading videos are remarkable for their brutality, their professional-quality film production, and for the unnerving calm the victims maintain as they speak to the cameras before their deaths.
A defector named "Saleh" revealed to Sky News how ISIS manages to keep their hostages so docile in those videos: they rehearse.
ISIS captors tell their hostages that they aren't going to be killed: "Don't worry, doesn't matter, nothing dangerous for you."
Since the executions were rehearsed many times, the captives remain calm, not knowing that their deaths are imminent.
Saleh explains that victims were given Arabic names to trick them into believing they would be treated well.
To induce their captives to read the statements prepared by ISIS, a militant would tell the victims "no problem, only video, we don't kill you, we want from your government [to] stop attacking Syria. We don't have any problem with you; you are only our visitors.'"
In the videos, captives calmly read a prepared statement alternately condemning their home countries, asking for ransom money, and warning of future ISIS aggression.
Subjecting captives to mock executions is psychological torture, of course, and it's probably not the only torture ISIS' beheading victims faced. American journalist James Foley was subjected to beatings and waterboarding before his beheading death, The New York Times reported. 
"Saleh," a translator who was employed by ISIS to reassure the hostages (and to interrogate others,) says he knew the plan was always to kill them.
"Saleh" eventually escaped to Syria. "Saleh"'s voice is heavy with guilt and fear as he describes what he has seen and the retribution he may face if ISIS finds him. "Saleh" personally witnessed London-bred "Jihadi John" behead Japanese captive Kenju Goto.
He says that ISIS fighters are 70 percent foreign-born (a number that matches intelligence estimates.)
Overcome with emotion describing the role he played fooling the victims, "Saleh" begins to cry and abruptly ends the interview.