Country singer Jamey Johnson wasn't about to have his Second Amendment rights infringed upon just because a South Carolina venue was a "gun-free zone."
Johnson was scheduled to perform a show at the House of Blues in Myrtle Beach when the venue reportedly decided to tell Johnson that he couldn't enter the building with his legally registered gun.
House of Blues Myrtle Beach released a statement about the situation: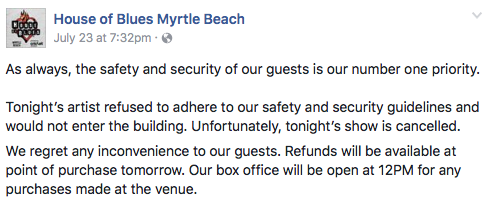 A member of Johnson's band, Tony "TC" Coleman, took to Facebook to clear the air about the situation in a now deleted post.
Here's Coleman's statement, according to Breitbart:
AS A MEMBER OF JAMEY'S BAND, HOUSE OF BLUES MANAGEMENT "LIVE NATION " WAS WRONG FOR HOW THEY TREATED THE SITUATION. JAMEY WAS READY TO GIVE AN AMAZING PERFORMANCE AS HE HAS DONE EVERY NIGHT SINCE THE YEAR AND 3 MONTHS I'VE BEEN IN HIS BAND. I STAND WITH HIM ON THIS. HOUSE OF BLUES DID'NT NEED TO TREAT US LIKE WE WERE TERRORIST. THEY PUT A MEDAL DETECTOR BETWEEN JAMEY'S BUSSES AND THE STAGE ENTRANCE AND THE ONLY PEOPLE COMING IN AND OUT OF HIS BUSES WAS US. HIS BAND AND CREW AND WE ALL HAVE LAMINATED STAGE IDENTIFICATION. WE DID NOT COME TO HOUSE OF BLUES TO BE TREATED LIKE WE ARE GOING TO KILL THE FANS. IF SOMEONE CAME BACKSTAGE TO HARM ANYBODY YOU BETTER PRAY THERE IS A JAMEY JOHNSON TYPE INDIVIDUAL AROUND.
That's what these gun-control nuts with their ridiculous policies don't understand: gun-free zones are invitations for actual criminals, who typically don't register their weapons, to go somewhere and cause chaos at a place they know they won't immediately be fired upon.
Johnson served in the Marine Corps for eight years from 1995 until 2003 where he was honorably discharged from service as a corporal.
Thank you for supporting MRCTV! As a tax-deductible, charitable organization, we rely on the support of our readers to keep us running! Keep MRCTV going with your gift here!