A history professor has noted on her course syllabi that she will include "trigger warnings" for students whose sensibilities might be bothered by the class material, yet has sent out tweets crudely attacking Republicans (without "trigger warnings").
Zayna Bizri is currently teaching "History of Western Civilization" at Northern Virginia Community College. MRCTV has obtained the syllabus used for the course.
According to the syllabus,
"Trigger Warnings: Several of the assigned sources can be upsetting and disturbing. To a degree, this is the point of reading them – learning is an uncomfortable process. If you have specific triggers, please let me know and I will note assignments accordingly. However, this will not release you from the assignment. The trigger warnings are to give you the tools you require to complete the assigned work."
Although having a certain "trigger" will not exempt a student from completing an assigned task, Bizri notes that she will give the appropriate "trigger warnings" in case a specific topic is particularly "triggering."
The selected readings for the "History of Western Civilization" course that cause someone to be triggered include the standard materials: "The Making of the West: Peoples and Cultures Vol. 1," "Sources of The Making of the West: Peoples and Cultures Vol. 1," and The Internet Modern History Sourcebook.
Topics mentioned in the course syllabus include the Roman Empire, slavery, World War II, and the Cuban missile crisis.
In the fall 2015 term, Bizri is slated to teach "World History" at George Mason University. The syllabus used for the "World History" course in the previous fall 2014 semester contains the same "trigger warning" disclaimer.
In both of the courses, a component of the class involves making a Twitter account and interacting with each course's respective Twitter account. On the syllabi for both of the courses, Bizri lists her own professional Twitter as a means of contact for students.
Bizri's Twitter account, provided to students at the public schools where she teaches, includes many highly political and insensitive tweets, including criticisms of Republicans.
She retweeted a post comparing the motivations of mass shooters to the positions of the Republican Party: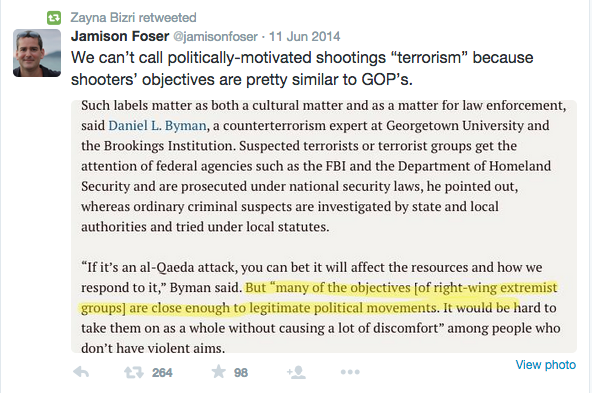 She also retweeted a post asserting Republicans believe, according to the Constitution, "Pres Obama is only allowed to give 3/5 as many Executive Orders as white Presidents," a reference to the Three-Fifths Compromise which counted slaves as three-fifths of a person for representation purposes:

On Bizri's alternative Twitter page, she further makes her views on Republicans known:


Bizri is also teaching "War and American Society" at GMU in the fall. There is no word on whether the entire subject of the course - war - will require a massive "trigger warning."