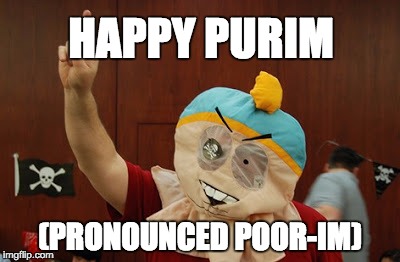 Remember the way the media when apoplectic when Donald Trump called the book in the New Testament "Two Corinthians" instead of Second Corinthians? Well, Hillary Clinton "blew it" when she spoke of the Jewish Holiday of Purim during her AIPAC (American Israel Public Affairs Committee) speech today, but it's been ignored by the liberal media.
To start off, she mispronounced the name of the holiday. It's pronounced "poor-im" - she pronounced it "pyour-im" (I will give her a bye on calling her uncle "Mordikai," instead of the difficult to pronounce "Mordechai."
Clinton followed up by giving the holiday a different meaning. Watch the short video below:
Hillary described the message of the holiday as "refusing to stay silent in the face of evil." One could interpret the holiday as that, but they would be wrong. 
The true meaning of the holiday is that, even when there are are no apparent miracles, God is always there.
One way Jews celebrate the holiday of Purim is to wear masks because, in a way, everyone in the story was hiding something, even the two characters she mentioned. Esther changed her name from Hadassah to hide the fact that she was Jewish. Mordechai not only told Esther to hide her religion, but he also hid the fact that he was her uncle.
But, the biggest "hidden character" in the Purim story is God. Jews celebrate the holiday because we recognize that it was God who helped us come out safe in this battle against extermination, even though he was hidden. There was no splitting the sea, stopping the sun, or ten plagues-type miracles. But, it was still the hand of God who saved the Jews from the number two guy in the Persian empire.
Hillary's faux pas brings up two more characters wearing masks. The former secretary of state was hiding the fact that she knew little about Purim, not even how to pronounce the holiday. And the liberal media that criticized Donald Trump for a religious error are hiding the fact that they don't even attempt to be even-handed when mistakes are made by those on the left.