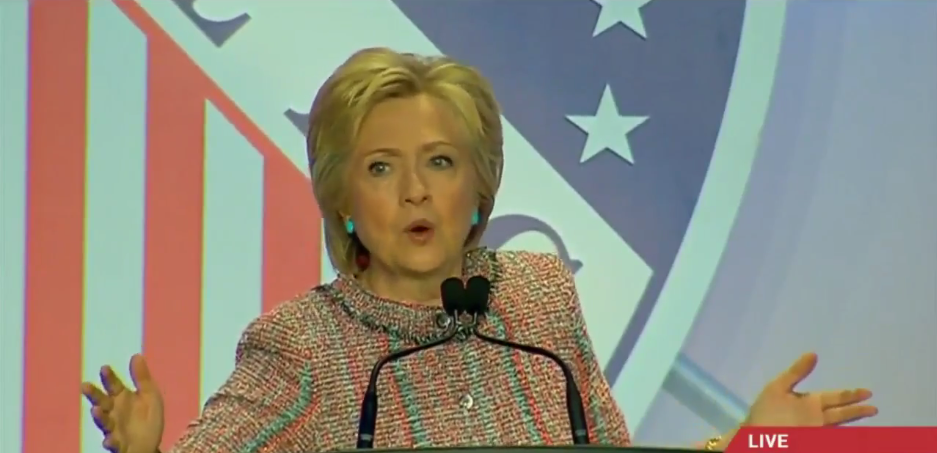 (Image via Screenshot)
Hillary Clinton spoke at the 2016 League of United Latin American Citizens (LULAC) National Convention on Thursday, where she promised, if elected president, to introduce legislation for comprehensive immigration reform with a path to citizenship in her first 100 days of office. 
She also vowed to extend deportation protection to millions of illegal immigrants under DAPA, or Obama's Deferred Action for Parents of Americans and Lawful Permanent Residents, despite the recent Supreme Court decision blocking its enforcement.   
"We must do everything we can to keep families already here together," she said. "So when the Supreme Court put DAPA on hold, that affected 5 million immigrants and that was devastating… But it's important to note: the Court did not actually rule on the substance of the case."
"DAPA is squarely within the president's authority and I will keep saying that and fighting for it," said Clinton.  
The Democratic presidential nominee went on to tell the audience of Hispanic activists and leaders, "We are not strangers. You are not intruders... And together we must send a resounding message to Donald Trump in November."
"I need you at my side, because this is your election," she said. 
Check out a livestream of her remarks below.
During her speech, Clinton made sure to criticize her Republican rival Donald Trump for his stance on immigration.
"I deeply regret the kind of campaign the Republican nominee started with and is still running today," said Clinton.
"Next week in Cleveland, [Republicans] will nominate someone who thinks Latino outreach is tweeting a picture of a taco bowl," she fired.
Trump has yet to respond to her criticisms.