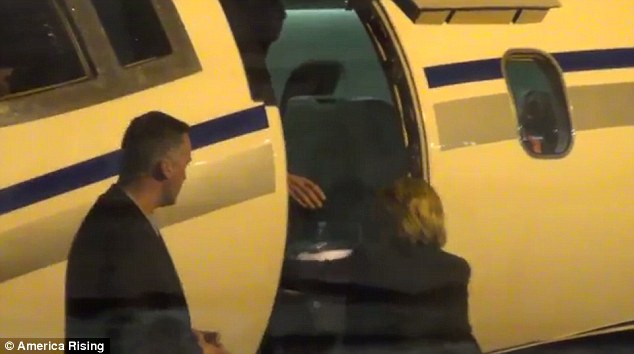 Once again, the presumptive Democratic Party nominee for president is displaying her belief that there are two sets of rules: one for her and one for us "common folk." On Monday, Hillary Clinton accepted the endorsement of the powerful League of Conservation Voters (LCV). The next day, she hopped on a gas-guzzling private Learjet (which emits 2 tons of carbon per hour) to make another appearance.
The endorsement was covered by the liberal magazine, The Nation:
Clinton flew to New Hampshire to accept the LCV endorsement, recognizing the significance it has for Democrats and independents—especially younger voters—who are focused on issues of climate change and sustainability.

LCV board chair Carol M. Browner focused on the climate issue in talking up Clinton.

 "As a presidential candidate, Hillary Clinton has made the need to grow a sustainable, clean energy economy and tackling climate change a major part of her conversation with voters," said Browner, a former EPA administrator who served as director of the Office of Energy and Climate Change Policy under President Obama. "With a history of leadership on the international stage and a commitment to protecting public health, Hillary Clinton is the leader we need to meet the climate crisis head-on."
After the endorsement was announced, Hillary's competitor for the Democratic nomination, Bernie Sanders, expressed disappointment because he felt he was the "greener" of the two candidates.  
Unfortunately for Ms. Clinton, the next day she gave some ammunition to Sander's claim.
As she boarded a private jet to leave New Hampshire, America Rising PAC was there to take pictures (see above) and video (see below) as she hopped on a Learjet 60
According to the U.K. Daily Mail, the Learjet 60 leaves a very large carbon footprint:
The $13.3 million Learjet 60 cruises at a top speed of 525 miles per hour, according to Jet Advisors, a firm that counsels America's 1 per cent on aircraft purchases.

It also consumes 203 gallons of jet fuel for every hour it spends with its twin engines running.

According to the U.S. Energy Information Administration, burning a gallon of jet fuel produces 21.1 pounds of carbon dioxide.

That puts the Learjet 60's hourly carbon footprint at 4,283 pounds – more than 2 tons.
America Rising PAC points out that Hillary Clinton's campaign had pledged to go carbon neutral back in July. However, as CNN reported three weeks ago, the Clinton team has yet to make good on that promise.