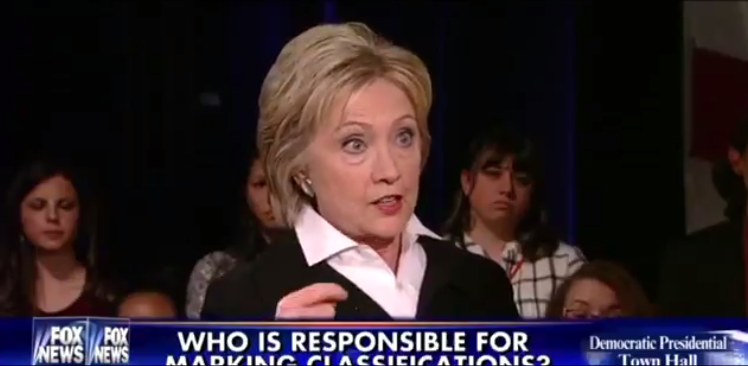 (Image via Screenshot)
During the Fox News Democratic Town Hall Monday night, Hillary Clinton doubled down on her claim that none of the emails sent or received via her private server were marked classified during her four-year stint as President Obama's secretary of state.
While she conceded that using a personal email was a "mistake," Clinton said that she assumed the State Department had access to her emails because they were sent to state.gov addresses. 
"Let me clarify this, because, you know, there's much misinformation going on around here," said Clinton. "It wasn't the best choice to use a personal email. It was a mistake. However, I am not alone in that. Many people in the government, past and current, have on occasion or as a practice done the same."
"What we turned over were more than 30,000 emails that I assumed were already in the government system," she told debate moderator Bret Baier, "because they were sent to state.gov addresses."
Clinton called it an "absurdity" to be assigned fault for emails determined classified retroactively by the State Department in its investigation.
"I will reiterate, because it's a fact: Nothing I sent or received was marked classified," said Clinton. "Now, what happens when you ask or when you are asked to make information public, is that it's reviewed and different agencies come in with their opinions. As you know, just recently, Colin Powell's emails were retroactively classified from more than ten years ago. As he said, that was an absurdity. I could not agree more."
Listen to a short video clip from her remarks below.