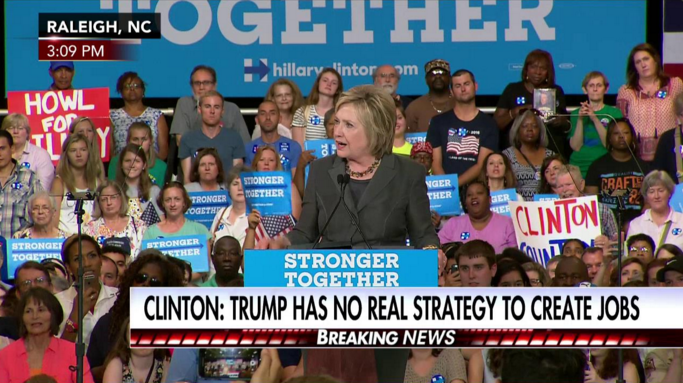 (Image via Twitter)
Hillary Clinton defended her family's nonprofit at a rally in Raleigh, N.C., on Wednesday in light of recent remarks by Donald Trump criticizing the Clinton Foundation for its financial dealings with and connections to countries with poor human rights records.
In her speech, Clinton, who recently called Trump a "fraud" who would "scam America,"  complained that Trump is relying on personal attacks to distract Americans.
She said that he has no real answers to solve the issues facing the country, particularly the economy. 
"He's going after me personally because he has no answers on the substance," said Clinton. "All he can do is distract us. That's even why he's attacking my faith. Sigh. And of course, attacking a philanthropic foundation that saves and improves lives around the world."
"It's no surprise he doesn't understand these things," she continued. "The Clinton Foundation helps poor people around the world get access to life saving AIDS medicine. Donald Trump uses poor people around the world to produce his line of suits and ties."
Watch a clip from her remarks below.