Seriously?
For goodness sake.
At the risk of being labeled "racist", it might be worthwhile to mention that there's an old method of causing physical and mental distress called The Chinese Water Torture. It was deceptively simple, and very insidious. Locking the subject's head face up, then, slowly dripping water on his or her forehead, without cease, the process not only causes the subject sleep deprivation and pain, but the water effects the skin to actually wear it away.
This, in essence, is what Hillary Clinton and her leftist pals in the pop media are doing to Americans on many fronts, and the most recent, most egregious, is the repeated "drip-drip" of them claiming that Trump is racist for correctly labeling the Wuhan Coronavirus, also known as COVID19, what it is, and by explaining it has an origin outside the US.
The president is turning to racist rhetoric to distract from his failures to take the coronavirus seriously early on, make tests widely available, and adequately prepare the country for a period of crisis… Don't fall for it. Don't let your friends and family fall for it.
Oh, yes. Donald Trump is not only xenophobic and racist, he is playing on the xenophobia and racism of those "deplorables" out there, eh, Hillary?
And you didn't even explicitly mention anything he said. You merely implied, to give yourself cover.
How classy.
And how obvious. For more than a week, Hillary's slack-jawed lackeys in the leftist pop media have taken this ignorant, obvious, line of attack.
And, as Eric Scheiner pointed out in his Wacky M.O.L.E. video posted on Friday, March 13, not only are people like CNN's Chris "Fake News Fredo" Cuomo and Jim "Very Fake News" Acosta pushing this and other lines of attack on Trump, taking an opportunistic and almost deranged vector in their incessant attack on the President, they're hoping Americans will forget members of their CNN staff repeatedly used terms like "Wuhan Coronavirus" and "Chinese Coronavirus" for weeks!
**Drip-drip**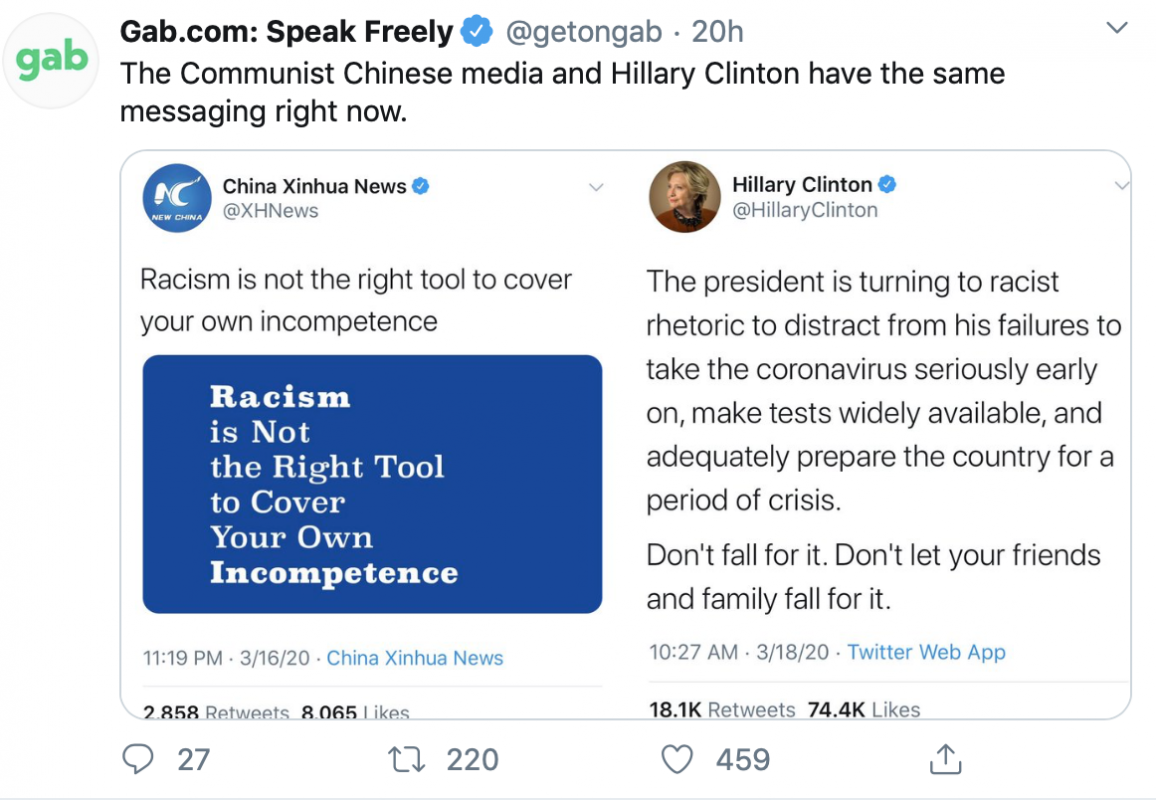 Please, Hillary, stop the torture. In fact, stop echoing the very sentiment that the state-run news of Communist China drips onto Twitter. As Gab.com Tweeted in a screencap placed side-by-side next to Hillary's dumb post, China Xinhua News is pushing the same fake news, saying:
Racism is not the right tool to cover your own incompetence. Racism is not the right tool to cover your own incompetence.
They had to say it twice... because, like the Water Torture, one drip is not enough.
A message to Hillary and her communist repeater system: Please stop trying to find some political angle to continue trying to portray Donald Trump as racist.
If one disagrees with a policy or position about the role of government in people's lives, why not talk about the substance?
Perhaps that's not a winning strategy for you, eh?