California Sen. Kamala Harris pointedly ignored repeated questions from reporters asking her to comment on Jussie Smollett, the disgraced "Empire" actor charged by Chicago police with fabricating a fake hate crime back in January.
Walking with Al Sharpton following a planned Thursday lunch, Harris sped past the cameras and into a waiting vehicle as dozens of reporters pelted her with requests for comment on the Smollett case.
 
MOMENTS AGO: Sen. Kamala Harris ignores questions on Jussie Smollett case after dining with Rev. Al Sharpton in NYC https://t.co/KTebfRW6GJ pic.twitter.com/BHA0hgqwZy

— The Hill (@thehill) February 21, 2019
Funnily enough, Harris was more than happy to give her opinion the Smollett case back before it was found to have all been a big hoax, tweeting in late January that Smollett's alleged attack was tantamount to a "modern day lynching."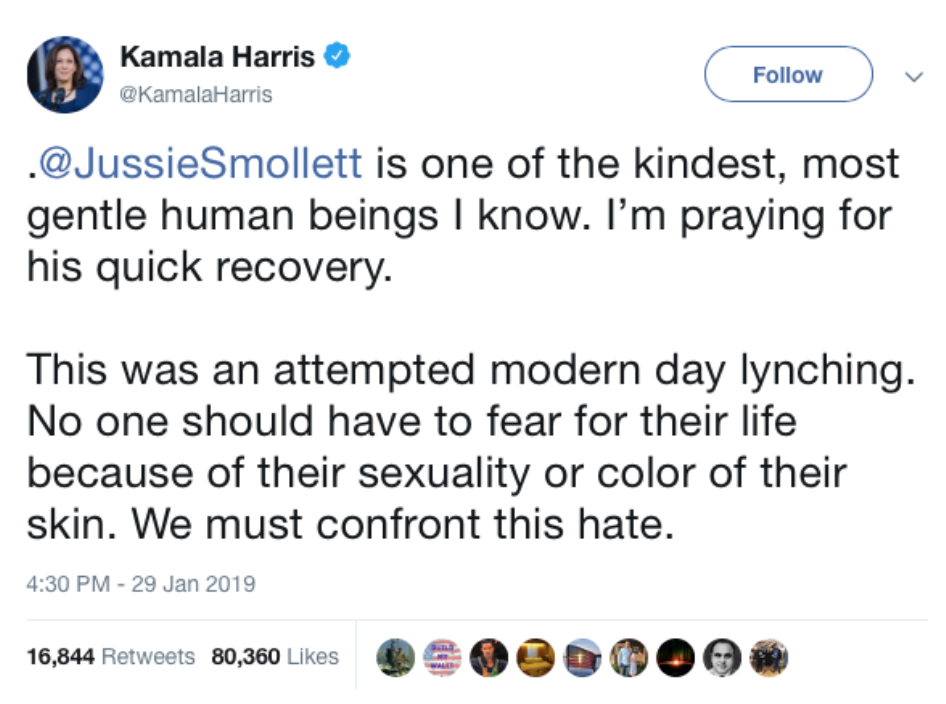 In the weeks that followed, Harris also supported New Jersey Sen. Cory Booker in passing a bill in the U.S. Senate to make lynching a federal crime.
MRCTV Reader,
The liberal media are terrified of the truth, especially when it leads to uncomfortable questions about their own leftist worldview.
MRCTV is the multimedia division of MRC featuring original content and aggregated videos of the news, people, and events conservatives care about.
MRCTV relies on the support of our loyal readers (and video viewers) to keep providing the news and commentary that matter to the American people, not just stories that prop up the liberal agenda.
Make a donation today. Just $15 a month would make a tremendous impact and enable us to keeping shining the light where the liberal media are afraid to tread.
— The MRCTV Team
DONATE
Connect
Sign up for our MRCTV newsletter to receive the latest news.
Sponsored Links