Last Thursday, a Virginia High School teacher was fired for not using the preferred gender pronouns of a female student who believed she was a male.
Peter Vlaming, a French teacher at West Point High School in West Point, Va., was brought before the West Point School Board to address his "misgendering" of a student who "transitioned" over the 2018 summer.
As Richmond Times-Dispatch reported, Vlaming taught the student in the 2017-2018 school year when she still identified as a female. After she transitioned, he agreed to call the student by a male name but didn't want to address her using male pronouns, explaining this violated his Christian beliefs. 
When the student claimed this made her feel "uncomfortable" and "singled out," school administrators told Vlaming that "he could not treat his transgender pupil differently than he treats others," according to Richmond Times-Dispatch.
"That discrimination then leads to creating a hostile learning environment. And the student had expressed that. The parent had expressed that," said West Point schools Superintendent Laura Abel. "They felt disrespected."
This led the administrators to call for the firing of Vlaming, claiming he violated the school system's nondiscrimination and harassment policies. 
The board meeting consisted mostly of parents and students who supported Vlaming, describing him as a "model teacher."
"If there's no policy in place, how can they just let him go?" said Jennifer Haynes, a 52-year-old West Point High parent.
In Vlaming's defense of himself, he said he loves and respects all his students and desired to reach a solution based on "mutual tolerance" but that it was rejected. He went on to explain he was at risk of losing his job for holding views that are held by "most of the world for most of human history."
But Vlaming had been facing pushback from school administrators for a few weeks and couldn't withstand their onslaught. The four-hour board meeting ended with a unanimous decision to fire the teacher.
"I can't think of a worse way to treat a child than what was happening," said West Point High Principal Jonathan Hochman, who says he told Vlaming to use male pronouns when referring to the female student. 
The school board issued a press release explaining their reason for letting Vlaming go: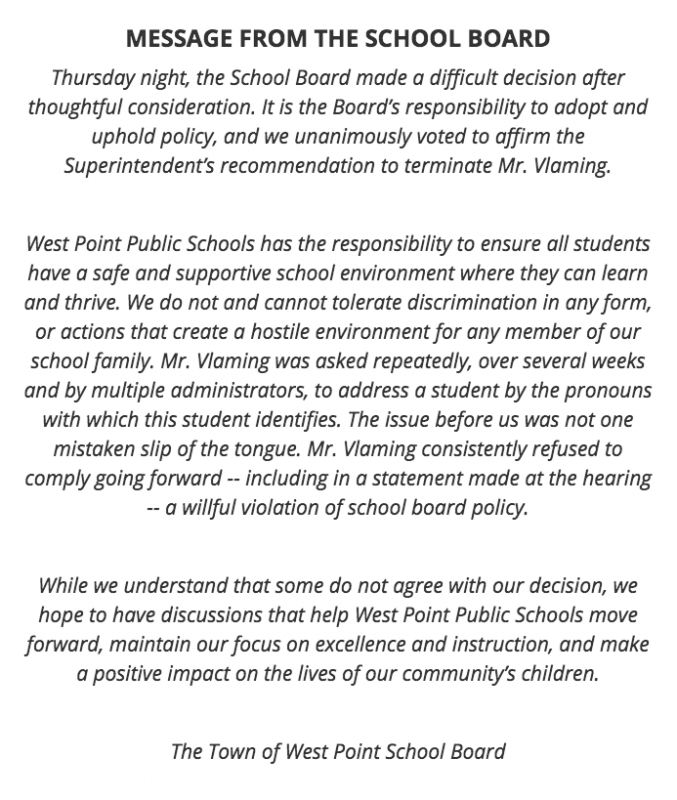 The French teacher, who had been teaching at the school for nearly 7 years, expressed his concern for the way the school board handled this situation. 
"That is not tolerance," Vlaming said. "That is coercion."
He went on to say, "I am being punished for what I haven't said." 
Sponsored Links