Another day, another moron heard from concerning the Second Amendment and whether or not it should even exist.
In the wake of the fossil brigade — a.k.a., former Supreme Court Justice John Paul Stevens and talk show host Larry King — coming out in support of repealing the Second Amendment, a person of actual influence within the Democratic Party has joined the chorus of stupidity.
Louisiana State Sen. Karen Carter Peterson (D) thought it would be a good idea to tweet Stevens' New York Times op-ed where the former judge called for a repeal of the Second Amendment and repeat that sentiment herself.
Here's the tweet: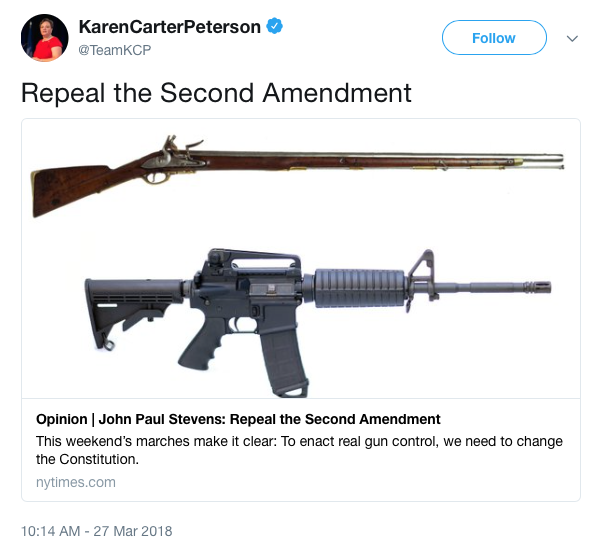 Peterson — who is also the chair of the Louisiana Democratic Party AND the Democratic National Committee (DNC)'s vice chairwoman of Civic Engagement and Voter Participation — doesn't understand that a repeal of the Second Amendment means a future assault on all other amendments, particularly the First.
The Twitterverse — at least those with a modicum of common sense in their melons — didn't let Peterson slide by with her insane declaration.
Here's some of the response: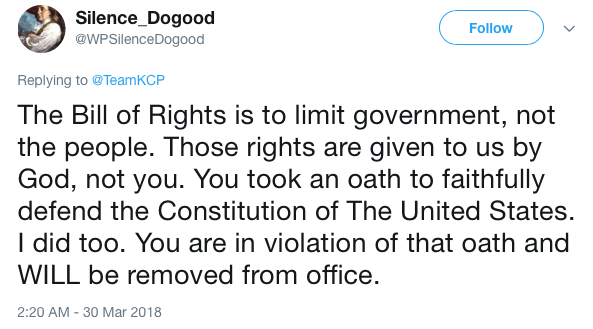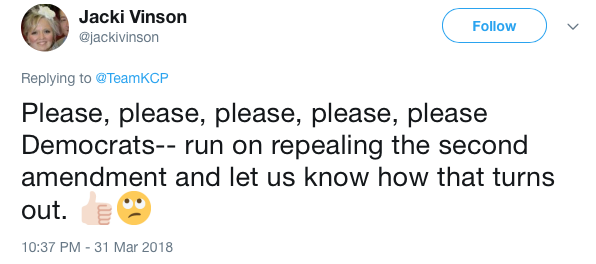 As you can clearly see, the "Repeal the Second Amendment" stance hasn't been going over too well with everyday Americans. These anti-American, Leftist politicians should keep talking like this, because they only further reveal who they really are to the masses.
H/T: Daily Wire
MRCTV Reader,
The liberal media are terrified of the truth, especially when it leads to uncomfortable questions about their own leftist worldview.
MRCTV is the multimedia division of MRC featuring original content and aggregated videos of the news, people, and events conservatives care about.
MRCTV relies on the support of our loyal readers (and video viewers) to keep providing the news and commentary that matter to the American people, not just stories that prop up the liberal agenda.
Make a donation today. Just $15 a month would make a tremendous impact and enable us to keeping shining the light where the liberal media are afraid to tread.
— The MRCTV Team
DONATE
Connect
Sign up for our MRCTV newsletter to receive the latest news.
Sponsored Links