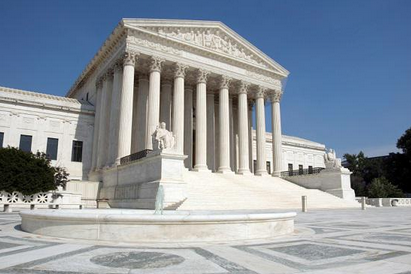 The Supreme Court ruled 6-3 in favor of President Obama's healthcare law on Thursday, upholding tax credit subsidies for insurance brought through by Obamacare federal exchanges.
In a statement released following the conclusion of King v. Burwell, Health and Human Services secretary Sylvia M. Burwell says that she hopes the "positive decision" will help government officials and politicians alike to "focus on the substance" of the law as opposed to the law itself.
"I hope that this positive decision will do what the American people want us to do – focus on the substance and turn to building on the progress we have made," she said.
"They want us to move forward to provide more Americans with affordable access to quality coverage and create a healthcare system that improves the quality of care and spends our dollars more wisely."
I'm not sure what she means by "the American people" when she says that today's decision in favor of Obamacare is what "they" want. Many Americans strongly disagree with the HHS secretary's sentiment — most notably Justice Scalia, as evinced in a scathing dissenting opinion where he declares that, with this decision, "words no longer have meaning." 
Scalia writes,
"This case requires us to decide whether someone who buys insurance on an Exchange established by the Secretary gets tax credits. You would think the answer would be obvious — so obvious there would hardly be a need for the Supreme Court to hear a case about it. In order to receive any money under §36B, an individual must enroll in an insurance plan through an 'Exchange established by the State.'

"The Secretary of Health and Human Services is not a State. So an Exchange established by the Secretary is not an Exchange established by the State — which means people who buy health insurance through such an Exchange get no money under §36B.

"Words no longer have meaning if an Exchange that is not established by a State is 'established by the State.'"
He goes on to say that this Supreme Court will go down in history as one which "favors some laws over others": 
"And the cases will publish forever the discouraging truth that the Supreme Court of the United States favors some laws over others, and is prepared to do whatever it takes to uphold and assist its favorites."
"I dissent," Scalia concluded.