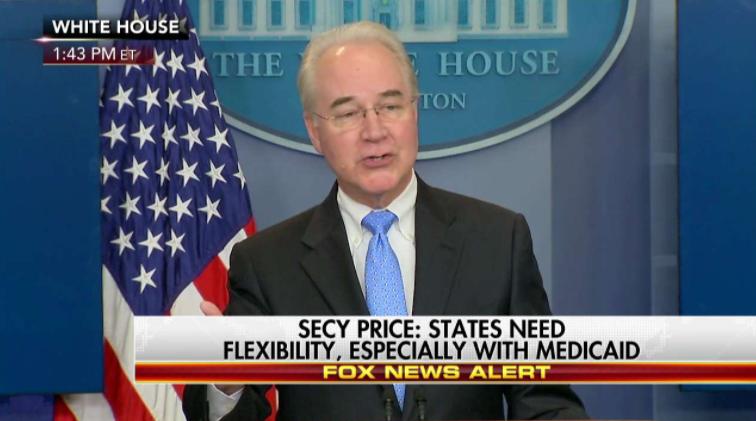 (Image via Twitter)
Health and Human Services (HHS) Secretary Tom Price spoke to reporters at Tuesday's White House press briefing about the House bill to replace ObamaCare.
When asked whether he believes it appropriate to coin the American Health Care Act, "TrumpCare," Price said that he would prefer the name, "PatientCare."
"I prefer to call it PatientCare," said Price. "This is about patients."
Price discussed how the current health care system put into place by the Obama administration is broken and hurting Americans across the country.
"What's happening right now is that the American people are having to sacrifice in order to purchase coverage and … many individuals can't afford the kind of coverage they have right now," he said. "And so they've got that insurance card but they don't have care."
He explained that the replacement bill aims to "drive down prices for everybody" by increasing competition and choices and returning the regulation of health care to the state level.
"All of these things taken in their aggregate will decrease the cost of health care and health coverage, and that will allow folks to purchase the coverage that they want," Price said.
When asked whether he supports everything in the bill, the HHS secretary replied, "It's a work in progress."
Price said that he looks forward to working with GOP members who oppose the bill, suggesting that there exists room for revision, negotiation and compromise. 
Check out a clip from his remarks below.
Thank you for supporting MRCTV! As a tax-deductible, charitable organization, we rely on the support of our readers to keep us running! Keep MRCTV going with your gift here!