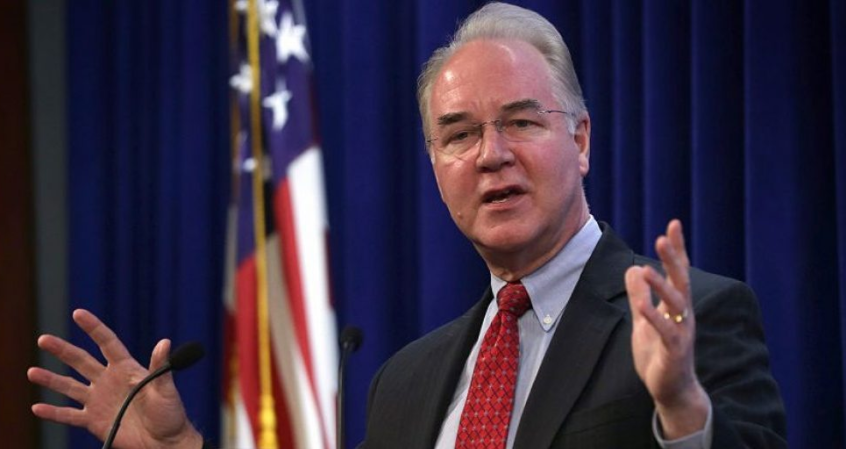 (Image via Twitter)
Health and Human Services (HHS) Secretary Tom Price issued a statement on Tuesday in response to the Congressional Budget Office (CBO) report on the American Health Care Act.
The CBO report predicts that 24 million Americans could lose coverage under the Obamacare replacement bill -- including an estimated 14 million who may opt out of coverage as a consequence of "repealing the penalties associated with the individual mandate."
Price said that the report's "coverage numbers defy logic," arguing that just because the bill allows Americans to decide whether to have health insurance doesn't mean they will opt out of coverage. 
"The CBO report's coverage numbers defy logic," said Price in a statement obtained by MRCTV. "They project that zeroing out the individual mandate – allowing Americans to choose whether to have insurance – will result in 14 million Americans opting out of coverage in one year. For there to be the reductions in coverage they project in just the first year, they assume five million Americans on Medicaid will drop off of health insurance for which they pay very little, and another nine million will stop participating in the individual and employer markets. These types of assumptions do not translate to the real world, and they do not accurately estimate the effects of this bill."
The HHS secretary explained that the bill will create options and allow Americans "to purchase coverage that works best for them at a price they can afford."
"The CBO report also does not incorporate two-thirds of the healthcare reform plan President Trump has called for – specifically the regulatory relief HHS can provide and the additional legislative reforms Congress is and will be pursuing," Price said. "Our three-pronged approach will free patients to purchase coverage that works best for them at a price they can afford. Doctors and patients understand that, especially under current law, having coverage is not the same thing as having access to the care one wants or needs."
"Our approach will provide Americans with relief from the collapsing healthcare law," he continued, "which never delivered on the benefits projected by the Congressional Budget Office in the first place."
During a press conference Tuesday morning, Price said that the HHS "disagrees strenuously" with the CBO report and believes that the American Health Care Act "will cover more individuals at a lower cost and give them the choices that they want for the coverage that they want for themselves and their family -- not that the government forces them to buy." 
Thank you for supporting MRCTV! As a tax-deductible, charitable organization, we rely on the support of our readers to keep us running! Keep MRCTV going with your gift here!