Another day, another celebrity fallen victim to the forced apology brigade.
Actor and stand-up comedian Kevin Hart stepped down as host of the upcoming 91st annual Academy Awards a little over two days after announcing that he would be hosting the event. The move comes one day after Hart came under fire for years-old, perceivably "homophobic" tweets and disparaging jokes made during some of Hart's stand-up specials.
As CNN reported:
The tweets, between 2009 and 2011, included derogatory language referring to gay people and made disparaging comments about sexuality.

In one of the tweets from 2011, among some that have been deleted, the comedian-actor said, "Yo if my son comes home & try's 2 play with my daughters doll house I'm going 2 break it over his head & say n my voice 'stop that's gay'."
Hart initially posted a video to Instagram saying that he wouldn't apologize for comments made years ago.
"We feed the internet trolls and we reward them," Hart said. "I'm not gonna do it, man."
The leader of LGBT "civil rights advocacy group" Human Rights Campaign, Chad Griffin, essentially demanded that Hart apologize on Twitter: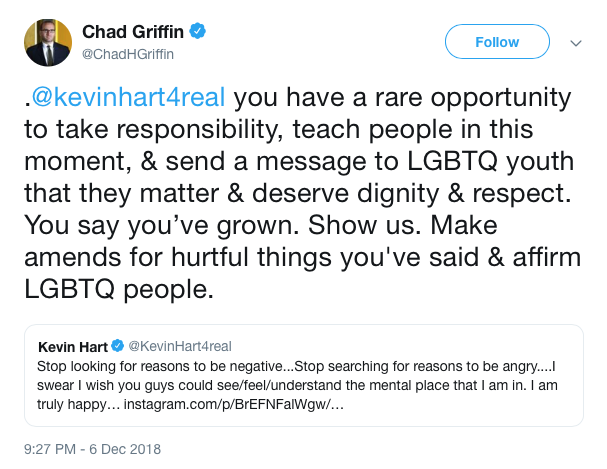 Just a few hours later, Hart capitulated to the social justice gestapo. The "Night School" actor took to Twitter and apologized.
Here's the tweet of Hart's apology, along with his announcement that he'll be stepping down as host of the Oscars: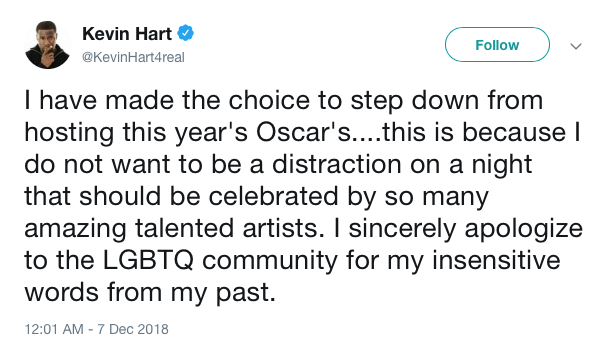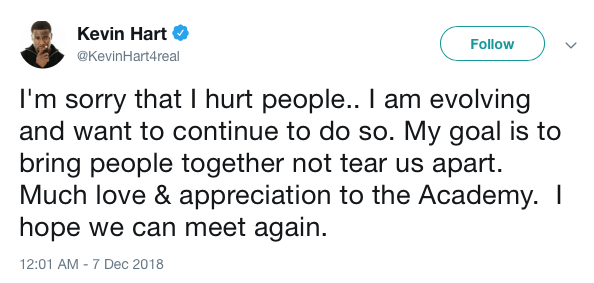 As long as a joke remains a joke, with the exception being jokes of the intentionally mean-spirited or malicious variety, a comedian shouldn't have to apologize for a bit — even if people disagree with it.
It's disappointing that Hart apologized, even though some of his jokes and comments might have been made in poor taste. Comedy isn't comedy anymore.