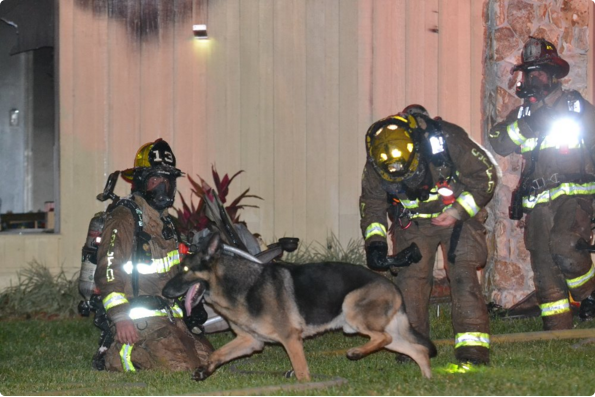 A heroic German Shepard named Maxx is reported to have helped firefighters find and save two children trapped in a burning home.
The Seminole County Sheriff's Office in Florida revealed in a news release that Maxx, who belongs to the owners of the home, helped firemen navigate through heavy smoke to rescue the family's four-year-old boy and two-year-old girl.
Upon first seeing flames coming from the home, neighbors sprang to action and were able to save the children's mother, Margo Feaser, who actually works as an auto theft investigator with the Seminole County Sheriff's Office.
"We are grateful to the neighbors who jumped into action, and we especially thank the firefighters who selflessly entered the burning structure and risked their lives for the Feaser family," said Seminole County Sheriff Don Eslinger. "There is a long road of recovery and rebuilding ahead, but our Sheriff's Office family will be with Margo and her family every step of the way. We know our community is behind them too, and we appreciate the tremendous outpouring of support the family has received." 
According to a GoFundMe page set up for the family, Feaser is a 12-year veteran of the Seminole County Sheriff's Office and a U.S. Army veteran. Her husband, who firefighters quickly found after entering the home, is also a military veteran.
The GoFundMe page also states that the family's home was completely destroyed by the fire. The account will "assist with medical, veterinary, and other housing expenses as the family works to get back on their feet." The page has reached nearly $17,000 as of this writing.
The family suffered from smoke inhalation and burns, and are now in serious but stable condition. Maxx was treated for smoke inhalation, but is now doing well.
A preliminary investigation conducted by the sheriff's office ruled the fire an accident.