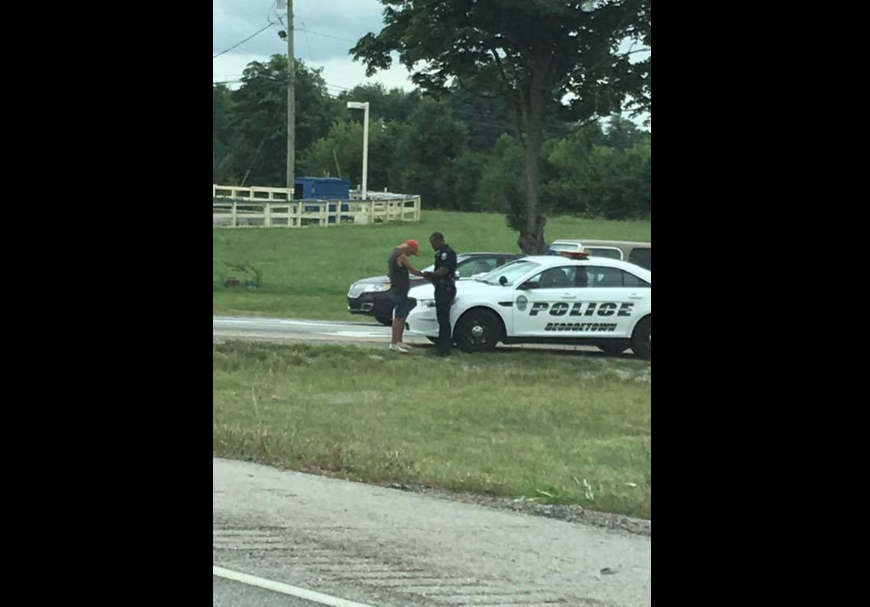 (Image via Facebook)
A Kentucky woman captured a touching moment between a police officer and a homeless man while stopped at a traffic light. 
Rita Baker posted on Facebook that both men appeared to be praying, standing on the side of the road, heads bowed and hand in hand.
"They stood this way for about 30 seconds," she wrote. "I don't know what was said but they appeared to be praying. Afterward they spoke a few more words and the officer returned to his car. The man picked his sign up off the ground and the officer drove away. It was just two men having mutual respect for one another. This has nothing to do with politics and everything to do with being a good human. Love your neighbor. Be kind to one another."
After a while, the officer, identified as Brandon White of the Georgetown Police Department, returned with a plate of food for the homeless man.
Baker told local station LEX 18 that she hopes the photo she posted on Facebook goes viral as a reminder that there is still good in the world, despite recent tragedies.
"It speaks volumes to the types of officers we have here at the Georgetown Police Department," Baker said.
So far, the post has gotten over 10,000 likes and 1,240 shares.
Check out the heartwarming photo and full description below.