President Trump's 2020 campaign manager Brad Parscale is calling for CNN's Jim Acosta to lose his White House press credentials after he "yelled" at Trump during the White House Easter Egg Roll on Monday, The Hill reports. 
Parscale shared an article from The Daily Caller Monday morning about how Acosta shouted questions at Trump while he was coloring with children at the event.
He tweeted that Acosta should "get a suspension for breaking protocol" and that "he continues to embarrass himself and @CNN."
"Pull his credentials for each incident," Parscale wrote.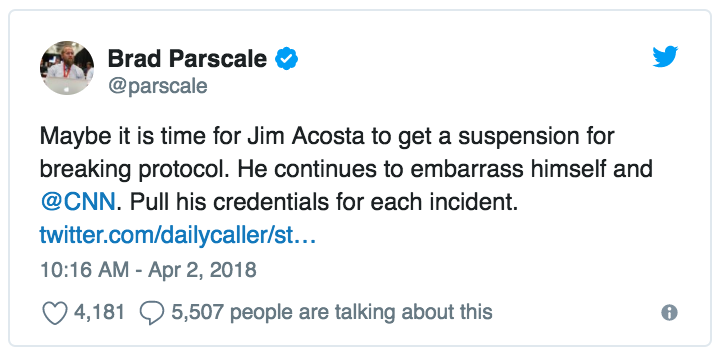 Acosta responded to Parscale on Twitter, saying, "Just doing my job.. which is protected by the First Amendment of The Constitution. You might want to give it a read."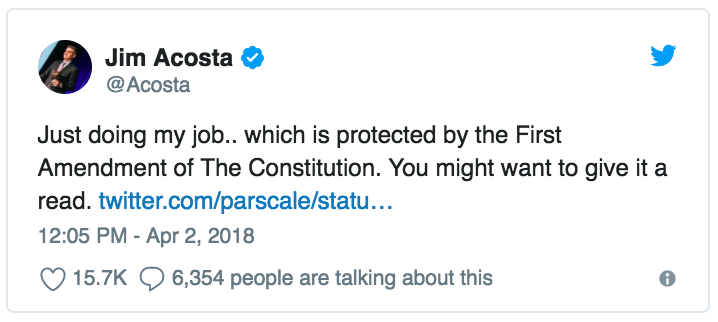 According to The Daily Caller, Acosta yelled at Trump from where the press corps was standing quietly taking video and pictures.
"What about the DACA kids? Should they worry about what's going to happen to them?" Acosta shouted.
"The Democrats have really let them down," Trump replied, while sitting at a coloring table with the First Lady, their son, Barron, and approximately a dozen other children. "They really let them down. It's a shame. A lot of people have taken advantage of DACA. It's a shame."
Acosta persisted, shouting repeatedly, "Didn't you kill DACA, sir? Didn't you kill DACA?"
Trump did not respond.
The incident was captured on video. 
His questions came after the President tweeted on Sunday that there would be "no more DACA deal" as a result of inaction by Democrats in Washington and "ridiculous liberal (Democrat) laws" that prevent federal immigration officials from properly doing their jobs.
(Cover Photo: Wikimedia Commons)
Thank you for supporting MRCTV! As a tax-deductible, charitable organization, we rely on the support of our readers to keep us running! Keep MRCTV going with your gift here!