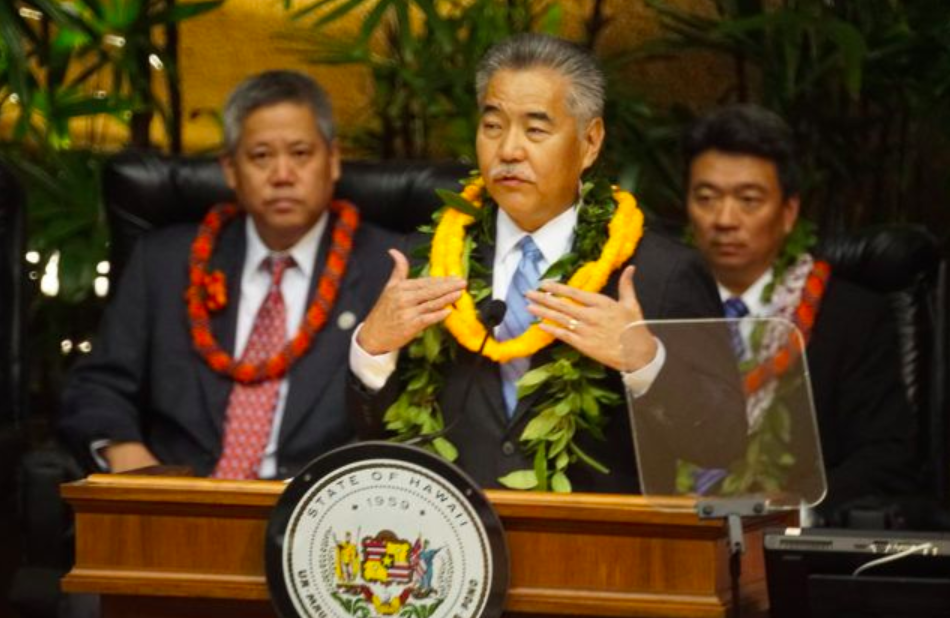 Image via Honolulu Civil Beat / Twitter
Hawaii Gov. David Ige (D) says he couldn't immediately correct the false ballistic missile alert that set off widespread panic among residents and visitors for nearly 40 minutes because he didn't have access to his own Twitter account information at the time.  
Ige told reporters Monday after giving his State of the State address that he knew the alert was a false alarm within two minutes of it being sent out but couldn't take care of the error on his end because he didn't personally know his own Twitter login details.   
"I have to confess that I don't know my Twitter account login and passwords," he said. "I will be putting that on my phone."
The alert was issued by the Hawaii Emergency Management Agency at 8:07 a.m. on Jan. 13. It took 13 minutes for the state to indicate it was a false alarm on social media and a whopping 36 minutes for the emergency management agency to send out a message correcting the bogus alert.
Gov. Ige said he got a call at 8:09 a.m. that the message was a mistake yet it took the emergency agency administrator Vern Miyagi nearly 15 minutes to confirm that the alert was a false alarm, Hawaii News Now reported.
Both received criticism for not notifying the public sooner.
"The false alert was blamed on a lone employee who 'pushed the wrong button' during an end-of-shift procedure," CNN reported. "The governor promised that steps were being taken to ensure that such a false alarm never happens again."
Thank you for supporting MRCTV! As a tax-deductible, charitable organization, we rely on the support of our readers to keep us running! Keep MRCTV going with your gift here!