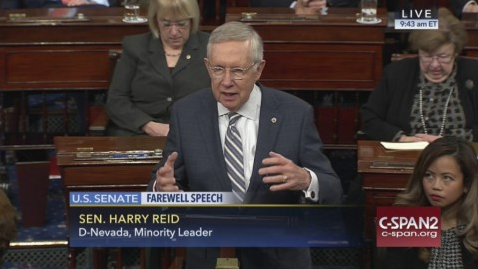 Outgoing Senate Minority Leader Harry Reid has struck a different tone with President-elect Donald Trump after viciously attacking him during his campaign.
In an interview with NPR Thursday, Reid said about Trump, "I have to say this – he's not as bad as I thought he would be."
Reid cited Trump's decision not to pursue charges against his Democratic opponent Hillary Clinton, as well as the more lenient position Trump has taken on illegal immigrant children who were brought here by their parents.
"Obviously he didn't believe in all of the stuff he said – which is a step in the right direction," Reid said.
He added:
"You know, it's not as if Donald Trump and I have been enemies our whole lives – he's done fundraisers for me. When I was elected last time he sent me a letter saying 'you're awesome' – a handwritten note… It's not as if I have hate in my soul for Donald Trump."

"I hope, beyond all, that he does well. It's important to the stability of this great nation we have. And I'm hopeful – I keep using that word, but that's what it is – hopeful that he will lessen his rhetoric and work toward a safer, more productive America."
During the campaign, Reid called Trump a "human leech" and a "sexual predator." Reid even made fun of Trump's personal appearance, saying he's "70 years old, he's not slim and trim, he brags about eating fast food every day."
Trump has also hurled his share of insults at Reid, at one point making fun of Reid's blindness in one eye after an exercise accident with resistance bands.
"Harry Reid? I think he should go back and start working out again with his rubber work-out pieces," Trump stated at the time.
You can watch Harry Reid's full Senate farewell speech below:
Thank you for supporting MRCTV! As a tax-deductible, charitable organization, we rely on the support of our readers to keep us running! Keep MRCTV going with your gift here!